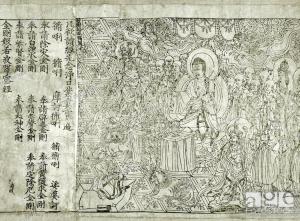 A fun factoid. All three of the earliest dateable examples of printing, a piece of paper, a printed book, and a printed book using moveable type are Mahayana Buddhist texts.
The oldest existing printed text that is dateable is the Mugujeonggwang, the Great Dharani Sutra, and was printed in Korea somewhere between 704 & 751.
The oldest printed book is a copy of the Vajracchedikā Prajñāpāramitā Sūtra, the Diamond Sutra found in the Dunhuang library in China, and is dated, 11 May, 868.
And the oldest dated book using metal movable type is the Buljo jikji simcha yojeol, the Anthology of Great Buddhist Priest's Zen Teachings, generally known simply as the Jikji, was published in Korea in 1337.
As a point of reference Johannes Gutenberg's marvelous Bible was printed between 1454 & 1455.
The illustration is from the Dunhuang Diamond Sutra