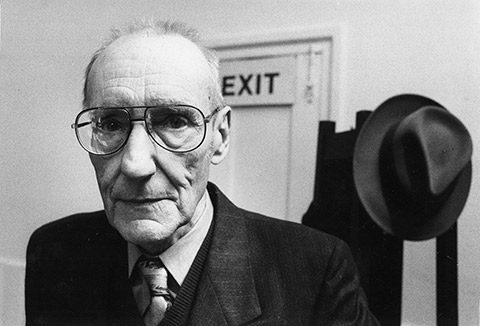 The master of the cut and paste novel, gay, drug addict, wife killer, essayist, short story writer, painter, spoken word artist, general all around self-obsessed jerk, and brilliant brilliant writer William S. Burroughs was born on this day, the 5th of February, in 1914. Were he still alive he'd be one hundred and nine years old…
Not quite that long ago, but bunches and bunches of years ago, I was working in Moe's bookstore in Berkeley.
Moe told me that William Burroughs was going to do a reading at the store and he, Moe, wanted me to make a flyer to post around the area announcing it.
I wrote up the copy, you know something along the lines of William Burroughs, author of Junkie & Naked Lunch speaking at Moe's Books, address & time, then got some magazines and a newspaper and cut out the letters and an occasional word and then cellophane taped them along with a picture of Mr Burroughs onto a white sheet of paper, then took it to one of the local copying businesses, who when I said I wanted the cellophane tape to be obvious in the flyer said he'd do the job but only if I told no one which local copier had done that crappy job. To this day I've kept that business's name a secret…
For my little project I was invited to sit with the great man and his assistant in the store's makeshift green room ahead of his reading.
He liked the flyer and said so.
Me, I found I didn't really have much to say to him at the time, other than I was influenced by some of his writing. But I do cherish the small encounter and the sitting around making smallest talk for a few minutes with a living connection to a thread of American literature and the whole beat scene that certainly has been important to me.
Happy birthday, Bill!
Sorry about being dead and all…