I am fighting with tears as I write this. Don't worry, they're good tears.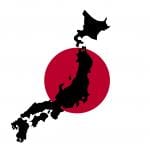 A few years ago, I composed a poem about the bombings of Hiroshima and Nagasaki; it was called Chi Ni Wa Odayaka, Japanese for "peace on earth," as in Luke 2.14. I published it on my old blog, along with some textual notes.
My mother suggested that I send the poem to Japan. I was a little hesitant—it's obviously a very sensitive subject, and I didn't want to offend or distress anybody (well, not anybody in Japan; I'm pretty okay with offending and distressing Americans, especially American Catholics, who approve of our indefensible actions). But I ultimately decided to take my chances. I wrote a cover letter, explaining a few details about myself,1 which an acquaintance of mine who works as a translator kindly rendered in Japanese for me,2 and mailed copies to the Diocese of Hiroshima and Archdiocese of Nagasaki3 last month.
A few days ago, I was contacted by a Japanese nun working for the Archdiocese of Nagasaki. The poem arrived, faster than I had dared to hope, and Archbishop Takami asked her to translate it. Not only was it well received, but Bishop Shirahama of Hiroshima is planning to introduce the poem to congregants during memorial observances on the 6th (which will be the seventy-fifth anniversary of the bombing), and Archbishop Takami plans to distribute copies at six Masses on the 9th and have it posted on the archdiocese's website and that of the Catholic Bishops' Conference of Japan.
I'm floored. I can hardly express how I feel—grateful, shaken, thrilled. I don't know what to say.
The liturgies at Hiroshima are being livestreamed on YouTube. One will be on the eve of the anniversary, at 3.30 am our time on August 5th, and the other will be at 7 pm our time on the same date (since it will already be the 6th in Japan).
---
1E.g., I was actually born in Japan (in the city of Misawa, near the northern end of the main island). My father was in the Navy and was stationed there at the time. We moved away shortly thereafter, but we've retained a great interest in and affection for Japan and its culture.
2Unfortunately, she was not able to translate the poem itself; poetry is extremely tricky to render even between related languages, and Japanese differs from English in a lot of significant grammatical aspects.
3Nagasaki is the premier Catholic see of Japan, equivalent to pre-Reformation Canterbury in England or Baltimore here in the US. As it happens, the bomb that hit Nagasaki struck less than a mile from Urakami Cathedral, which was full of worshipers preparing for the upcoming feast of the Assumption. Everyone inside was killed.