What is it that we say we believe when we recite the Creed at Mass on Sundays? According to the call-and-response Creed we use at Easter, we believe in:
God, the Father almighty, Creator of heaven and earth;
Jesus Christ, His only Son, our Lord, who was born of the Virgin Mary, suffered death and was buried, rose again from the dead and is seated at the right hand of the Father;
The Holy Spirit, the holy Catholic Church, the communion of saints, the forgiveness of sins, the resurrection of the body and life everlasting.
That is a basic summary of our beliefs. Yes, you can spend centuries in theological study of each point, but still, it's a short list.
In the Nicene Creed, we say we believe in just one Church, a Church that is holy, universal and stems from the apostles. Besides the human half of Christ and the reference to the apostles, are there any other people mentioned? Do we declare a belief in any particular pope or priest?
Leaving the Church
Then why is it that when a priest goes astray or a pope says something controversial, people leave the church? We've heard so many people say that they could no longer be Catholics after the sex abuse scandal because it caused them to lose their faith. Why – did their faith depend on perfect priests?
One's faith is supposed to be based on what we say in the Creed. There is nothing in the Creed that says "I believe all priests are sinless." There is no mention of priests at all in the Creed because priests and popes are not the Church. They are merely servants of the Church.
The Church, our religion, is what we believe about God and our relationship with God. Everything else is just window dressing built around administration, traditions and the whatnots of being human.
People "leave the Church" over the silliest and thinnest of excuses – "It's too hard to find time to go to Mass"; "I don't like Father X or the people in Parish Y"; I don't like the Vatican II changes"; "Exchanging a sign of peace is unsanitary."
What does any of that have to do with "I believe in one God . . . ?" Does any of this matter as long as the core beliefs of Catholicism remain the same?
Sex abuse scandal? You think that's bad? Look into Church history and read about popes who bought the office, had mistresses and illegitimate children, and lived vile lives of luxury? Think about all the different heresies that have arisen and the corrupt practices that led to the Reformation. Yet the Church, the actual religion born out of our set of beliefs, continues on.
The Church Eternal
The one, holy, catholic and apostolic religion will keep surviving until Judgment Day because it is the true Church at its core, and none of the other stuff hanging around it matters. That "stuff" can be irritating, embarrassing, and in need of reform, but if you are Catholic and know what is really important, you remain.
What's really important includes the sacraments. My first thought when people say they are no longer Catholic is: "But what about the sacraments? How can you do without them?"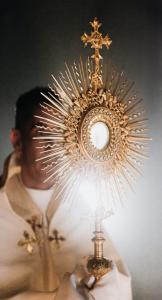 Most non-Catholic denominations do not have any sacraments other than baptism. Of course, not going to church at all deprives you of the sacraments. That would leave me feeling disconnected and starved.  Without the critically important sacraments, what else personally and tangibly unites us, by act and commitment, to our beliefs?
Some people leave the church for profound reasons, I'm sure. Sadly, however, I fear that many leave with really poor excuses that leave me wondering "Are they that shallow? What about theology and the sacred purpose of religion? How can all the teachings and practices just get tossed aside that easily? Did these people never really absorb Catholicism but were in church out of sheer habit?"
The Church has proven its legitimacy over and over again for two thousand years. Yet people walk out as if the history of the Church is only as old as its latest scandal, or as if being a continuous line since Christ handed over the keys to Peter makes it too old to be relevant. It seems to me that the means to salvation is too important for such thoughtless disregard.
When my friends and I have breakfast together after Sunday Mass, we occasionally talk about why we remain Catholic while so many others jump ship. The reasoning is quite simple: as long as Catholicism stays true to the Creed, the rest is unimportant. Wayward people, heresies, evil forces, scandals, crises – they come and go. Our faith rests not on any of these peripheral matters, but only on what truly matters.