My husband and I travel whenever we can. As a consequence, we have visited a great many Catholic churches, either for Sunday Mass, to visit a shrine or to revel in the beauty of a magnificent structure. This column will discuss some of our adventures from time to time – so stay tuned!
I'll start with the Mission Basilica in San Juan Capistrano, California, completed in 1986 and designated a basilica in 2000 and a national shrine in 2003. Although we were not able to attend Mass at the Basilica, we visited the beautiful church on our way to tour the old mission.
We were lucky enough to be there on March 19, the feast of St. Joseph and the day that the swallows come back to Capistrano. We saw only a few swallows – a complex of environmental problems have messed up their migration pattern – but it was fascinating nonetheless.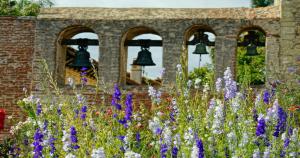 The buildings and exhibits of the old mission are interesting, of course, and the grounds provide a lovely garden setting. The sanctuary in the old chapel has a breathtaking wall of Spanish gold, and ancient bells still famously toll. To learn more about this Catholic and cultural treasure, go to: https://www.missionsjc.com/
A side chapel is devoted to St. Peregrine, the patron saint of cancer patients. Since my husband is a three-time cancer survivor, we made certain to light a votive candle in thanksgiving.
National Shrine, Local Parish
What always impresses me when I visit a national shrine like the Mission Basilica is that, despite the tourism or special devotions, it is still a working parish. There are still priests, deacons, and a staff supervising the ministries; there is still a schedule of Masses, a weekly bulletin, the various ministries and so on that you would find in any parish.
The basilica does not cater to an elite group just because it is a fancier church. The basilica is a parish church with ordinary parishioners who need all the usual services of sacraments, enrichment and education.
I have to admit, though, that San Juan Capistrano's Basilica maybe does a little more than most, judging from the large church bulletin. This is a parish that is big on retreats, seminars, and workshops on a variety of topics as well as charity functions.
Notably, the typical Knights of Columbus Friday Fish Fry in Lent has been replaced with grilled salmon, tilapia, fried shrimp, veggie pizza, and tilapia tacos! That's so California, and a menu that likely attracts many supporters.
Celebrities, Tourists and Catholic Action
Of course, the Basilica parish takes its responsibility to the historic mission grounds seriously, but the tourism does not overwhelm the true mission of the basilica, which is to provide for the spiritual and material needs of its community. Sometimes mega-churches or tele-evangelists lose sight of their true purpose in the glare of the spotlight and become more like entertainment or a commercial enterprise than humble servants of the Lord.
I haven't seen that "celebrity" attitude in any Catholic church or shrine, whether it is St. Patrick's in New York City or the Shrine to the Immaculate Conception in Washington, D.C. Instead, ministries are happening simultaneously with gawking tourists roaming the aisles or asking how to find the gift shop.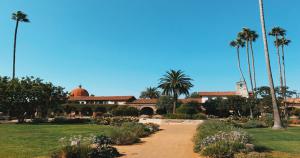 So, a shrine like the Mission Basilica has two major functions: tending to the pilgrims and tending to the parishioners. Apparently, the Mission Basilica has done an excellent job with the former for, according to its website, missionparish.org, the church was designated a basilica "in recognition of the Mission's effective service to the spiritual, liturgical and devotional life of pilgrims from across the United States and the international community."
As to the latter, it appears from all the activities at the Mission Basilica that it does a good job with the spiritual, liturgical and devotional life of its parishioners as well.
So, even at a national shrine, the work of a parish goes on, and isn't it nice that sometimes a lot of visitors get to witness our faith in action?