As the "Wandering Pew," my husband and I are ceaselessly amazed by the incredible stories we encounter in Catholic churches. For example, the Shrine of St. Joseph in St. Louis, Missouri, is the site of two miracles!
The First Miracle – a Terminal Illness Cured
Built by Jesuits in 1844-46, St. Joseph's witnessed its first miracle in 1864. Three years earlier, a German immigrant, Ignatius Strecker, had suffered a breastbone injury at his soap factory job. Within a couple of months, he developed a large, malignant inflammation that was causing his breastbone and ribs to decompose.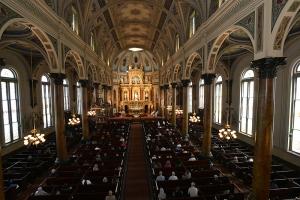 Despite lengthy medical attention, his condition worsened, and he developed tuberculosis, fever and fatigue. An expert was consulted, but he eventually declared Strecker to be terminal. Strecker, bedridden, lingered for months.
Then a famous missionary happened to come to St. Joseph's to preach. Strecker's wife heard his sermon on the great intercessory powers of Blessed Peter Claver. So Strecker dragged himself to church the next day, received a blessing for the sick and kissed a relic of Peter Claver.
Strecker said that he experienced a sudden conviction that he would be healed. Indeed, his sore began to disappear immediately. Strecker actually went back to work the next day. His bones and tuberculosis were healed within two weeks.
The physicians were astonished and recognized the cure as a miracle. Two years later, an official Church investigation agreed. In 1887, the miracle was formally declared authentic by the Vatican. It was one of the two required miracles accepted for the canonization of Peter Claver in 1888.
The Second Miracle – a Parish Saved from Cholera
The second miracle happened not long after. A terrible cholera epidemic struck St. Louis in 1866. There were, on average, 280 deaths daily, with 10-25 funerals a day at St. Joseph's.
The pastor at the time, Fr. Joseph Weber, asked the parishioners to make a vow to God: if, through the intercession of St. Joseph, the parish were spared any further cholera deaths, they would build a monument to their patron in thanksgiving.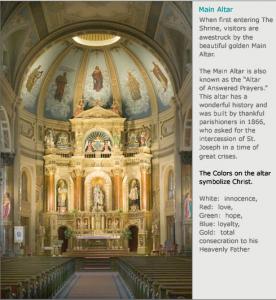 In fact, that day they pledged $4,000 — a huge sum at the time — as a sign of their faith that they would be saved and would be building a monument.
Miraculously, not a single family member of those who signed the vow and pledge became ill with cholera after that day!
The church was already undergoing significant remodeling and enlargement in 1865-66, so it was decided that the monument would be the main altar. The "Altar of Answered Prayers" was carved in wood in the Italian Renaissance style and installed in 1867.
Although the massive altar is a replica of one at the Jesuit Gesu Church in Rome, in place of St. Ignatius there is a statue in solid silver of St. Joseph and the Child Jesus. There are so many symbolic pieces to the altar that one could study it for hours, but its central theme, written above the statue in Latin is: "Go to Joseph."
Beauty Worthy of God
If knowing about the two miracles isn't enough to cause a visitor to walk through the shrine with awe, the glorious decor of the church will definitely do it. The ceiling, adorned with images of the saints, is magnificent and the stained-glass windows and side altars are lovely.
Add to that a jaw-dropping hand-carved, raised pulpit with its elaborate stairway and canopy. Further, there are over 30 hand-carved wooden statues. Old-world skilled craftsmanship, and loving devotion, is evident throughout.
As icing on the cake, the shrine is home to one of the largest Pfeffer tracker pipe organs in existence, installed in 1890.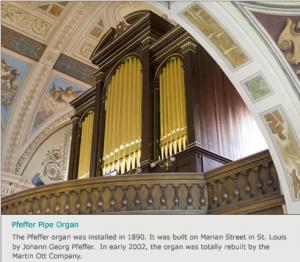 Saving and Seeing the Treasure
Situated in downtown St. Louis, the shrine became surrounded by factories and businesses in the 1950s. The parish shrank and the school that once had a thousand students was closed.
When the shrine was threatened with a wrecking ball in the late 1970s, a foundation was formed by a lay group that not only saved the building but has since been able to fully restore the church and organ. See: www.shrineofstjoseph.org
Thank heavens this treasure, listed on the National Register of Historic Places, was saved! How could anyone think of destroying such artistry? Even more, how could anyone ignore the importance of the site of two miracles?
Although no longer a parish, the shrine does allow weddings and provides tours.
My husband and I were so blessed to get a tour of this magnificent church and to be in a place where miracles occurred — not your everyday experience!
We recommend seeking out the Shrine of Saint Joseph and asking about the statue of the Blessed Mother that is behind glass. Now there's another great story!