It doesn't take any great powers of observation to notice that there are many more women than men in church on any given Sunday. Why is that? If we want more Catholic men at Mass, what can we do? How important is it for men to attend church?
There are a number of possible answers to the "Why" question. Machoism plays a role—church is only for boys and old men; grown men are too self-reliant for church. Also, today's secular culture reduces the number of believers and participants.
Further, men say they just don't see any value in going to church. Why should they when 40% of supposedly Catholic men do not believe that Catholicism contains any more truth than any other religion?
Reaching Out to Men
Matthew James Christoff, a Catholic convert and founder of the New Emangelization Project, noted this statistic and the fact that only about one third of Catholic men attend Mass weekly. https://www.catholicworldreport.com/2015/05/07/catholicisms-man-sized-crisis/.
Considering this information, it's no wonder that concerned Catholics have responded with multiple programs to reach men. The New Emangelization Project's website provides links to 18 men's evangelization initiatives and 8 Catholic men's websites. https://www.newemangelization.com/
Servant of God Emil Kapaun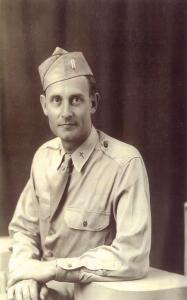 A relatively new effort to firm up men's commitment to Christ and His Church is Kapaun's Men. This organization is named after Captain Emil Kapaun, a Kansas priest, Medal of Honor recipient and candidate for sainthood.
Servant of God Emil was an Army chaplain in the Burma Theater during World War II. He also served during the Korean Conflict, was captured and died in a prisoner of war camp.  For more on his story and candidacy, go to www.frkapaun.org
Testimonies from the men who served with him report his courage and constancy in tending to their needs. They referred to him as a saint, as "Christ on the Battlefield." (Several inspirational biographies of Fr. Kapaun are available at bookstores.)
Fr. Kapaun made the news again in 2021 when, seventy years after his death, a government forensics team in Hawaii finally identified his remains among those of unknown soldiers interred at the Punchbowl's National Cemetery of the Pacific.
Last September, after a Mass in his hometown, Fr. Kapaun's casket was taken to another Mass in the Wichita Hartman arena. It was then carried on a horse-drawn caisson to be interred at the Cathedral of the Immaculate Conception.
Over 5,000 people attended the arena Mass. Besides military honors, the main avenue to the cathedral was lined with Catholic school children on their knees. Needless to say, Fr. Kapaun was a hero and a man to emulate.
In a previous blog about St. Joseph, I referred to him as "a real man." For the same reason, I think, it is fitting that an organization designed to increase the involvement of Catholic men in the Church is named after someone like Fr. Kapaun who exemplifies masculinity at its best. https://www.patheos.com/blogs/musingsfromthepew/2022/01/st-joseph-a-real-man/
Kapaun's Men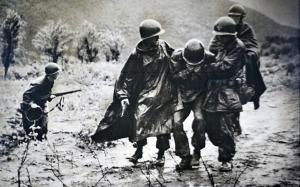 Kapaun's Men is intended to unite men in prayer, formation and discussion. It addresses virtuous living issues that are specific to men and fosters the key elements found in Father Kapaun's life.
One critical element is fellowship because Fr. Kapaun knew that survival on the battlefield requires strong bonds and trust. Friendships are few among men, but so important to their wellbeing, so this forum encourages growing in holiness with others.
The prayer element at meetings is a scripture passage pertinent to a beatitude because Fr. Kapaun gave a series of sermons on the Beatitudes. The formation and discussion elements are guided by one of four video series created by Kapaun's Men.
These 8-10 part series cover Virtue, Stewardship, the Beatitudes, and Pilgrimage. The videos are available to anyone, so existing men's parish organizations can use them too. They are also suitable for non-Catholics. Each comes with an Operations Manual and Study Guide. Hundreds of groups now use these videos.
Kapaun's Men teaches hospitality, prayer, formation and service as part of authentic manhood. If more men followed these "pillars," we would see stronger families and parishes.
The Need for Men
As discussed in my St. Joseph blog, absentee fathers are the cause of a myriad of our society's problems. In like manner, the absence of men at Mass means children unsupported in their faith by a male figure and likely to leave Catholicism.
At church, men's absence means that the business of the parish is run almost exclusively by women—the committees, the fundraising, the education—all areas where men could contribute their own unique gifts.
Just as women's voices need to be heard in all areas and all levels of society, men's voices need to be heard at church. More importantly, men's souls need to be nourished and their lives enriched in Christ.