In a previous blog, I described Perinatal Hospice, which is the process that helps parents to make a loving plan for the death of a preborn child with a fatal condition. https://www.patheos.com/blogs/musingsfromthepew/2021/09/blogs-musingsfromthepew-p272/
I also wrote a blog about the lack of accurate information and medical advice given to parents whose preborn child has serious medical issues or a fatal diagnosis. https://www.patheos.com/blogs/musingsfromthepew/2021/11/incompatible-with-life-prenatal-diagnoses-and-options/
After those posts, I read an article by a woman I know who has been through the wrenching experience of losing a child at birth to a genetic disorder. Her testimony demonstrates the importance of solidifying one's foundational beliefs before a crisis strikes.
Bosco's Life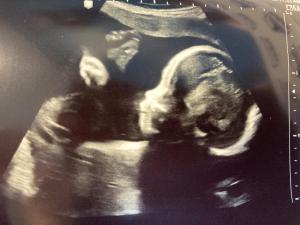 Deirdre Cooper and her husband, Kody, were told that their pre-born child likely had Trisomy 18 (aka Edwards syndrome). This severe chromosomal abnormality can be life-limiting or even fatal. Subsequent testing continued to find evidence of Trisomy 18.
Pro-abortion advocates will tell you that such circumstances qualify as hard cases that should justify abortion. Deirdre and Kody didn't think the situation was hard at all. As she tells it:
"A high-risk physician asked us if we wanted time to 'think about what to do.' By this, s
he implied we might want to consider killing our child because of the diagnosis.
"My husband and I immediately told her that we loved this child and would fight for him every minute he was alive. We asked about treatment options. The doctor was a little taken aback and asked if we were sure. Maybe we needed more time to think about this?  I said we were sure that killing our child was not an option."
It is often said in pro-life circles that we want to make abortion "unthinkable." For Deirdre and Kody, it was. Through four months of multiple appointments and tests, they fought for their son's life and appropriate medical care. They made a birth plan with the NICU director. The outcome, as Deirdre describes it, was tragic but also triumphant:
Bosco's Death
"Sadly, our beloved son, Bosco Joseph Paul, died during birth on April 20, 2021. He was delivered peacefully into my hands, adored by his brothers and sisters shortly after his delivery, and buried lovingly by our family and friends.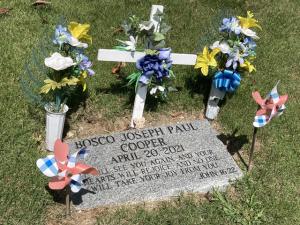 "One hundred and twenty people came to Bosco's funeral Mass, even though they had never met him. They came to support our entire family and to bear witness to the value of each human life and the enormity of our loss."
Bosco was buried in the children's section of their local Catholic cemetery. Deirdre reports that: "Having him buried nearby and being able to visit him often has been a tremendous comfort to our entire family. His gravestone is an enduring sign to the world that our son existed, and his life, while brief, mattered."
It's Not Hard
As Bosco's parents know, loving a child, even in the hard cases, is not hard. They feel that everything they did for him was worth it, even the excruciating pain of loss. Deirdre states the point searingly:
"People often say these are "such difficult situations, but I completely disagree. There is actually nothing difficult about not killing your child, no matter his diagnosis. Losing a child is difficult, yes, but choosing to kill that child intentionally doesn't make it any easier."
People say that you can't know what you would do until you are in that situation. Deirdre counters: "But, in my view, this is complete nonsense. I've always known that I would never kill my child, no matter his diagnosis, ability, size, or location."
Deirdre and Kody know that caring for a terminally or chronically ill child is difficult. What isn't difficult, they believe, is grasping "the fact that no disease or disorder could ever justify intentionally killing one's child, born or unborn."
A similar statement was made by Kurt Kondrich, the father who fought for the passage of the Pennsylvania Down Syndrome Prenatal Education Act (Chloe's Law) mandating that parents be provided with positive information on Down Syndrome. He said: I was astounded; I would never consider executing my child regardless of the disability." https://www.liveaction.org/news/down-syndrome-dad-life-changing-mission/
As Deirdre concludes: "There is nothing compassionate about purposefully killing a child with a disability. Such action does not prevent dealing with the death later; it just compounds the grief with guilt. Further, it is hurtful to those in the disability community and to parents of differently-abled children."
Know Where You Stand
Too many people avoid thinking about abortion, but they need to, not only because it is a critical cultural issue, but also because they might find themselves involved with a difficult pregnancy that requires life or death decisions. People need to prepare themselves with a moral foundation on which they can rely; they need to be able to say, as Deirdre and Kody did, "I've always known that I would never kill my child."
Further, we all need to make sure that mothers in crisis hear the message: "There is actually nothing difficult about not killing your child."
(Many thanks to Deirdre for allowing me to write about Bosco and use these pictures. For Deirdre's original article, go to: https://www.texasallianceforlife.org/does-a-childs-fetal-diagnosis-justify-abortion/)