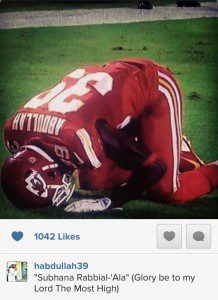 In 2012 NFL players and brothers Hamza and Husain Abdullah missed the season so they could take a month to perform the Hajj pilgrimage in Makkah and its surrounding regions. In a sport where players are vying to get signed, negotiating bigger contracts, fighting injuries and striving for top performances, these young Muslim men left their respective teams with no guarantee that they'd receive contracts again, just so they could perform the Hajj.
Four words: Muslim male role models.
For any Muslim parent trying to raise faith-observant sons in the United States, the Abdullah brothers are great role models – young guys who have dedicated their lives to sport, have achieved success and are dedicated to their faith and family. I'll say it again – because it bears repeating: These are guys who actually left the NFL just so they could do their Hajj pilgrimage.
When they returned to the NFL a year later, Husain was signed by the Kansas City Chiefs, after playing for the Minnesota Vikings from 2008-11. (Hamza didn't get signed by any team.) And on Monday night's game against the New England Patriots, after his pick 6 gave Kansas City a 41-7 lead, Husain prostrated in sajdah on the ground in thanks, something he had foretold to the Kansas City Star: "If I get a pick, I'm going to prostrate before God in the end zone."
And promptly got a 15-yard unsportsmanlike penalty for delay of game.
(Which his coach and others said was because of his slide into the prostration. Later NFL spokesman Michael Signora said that the "officiating mechanic in this situation is not to flag a player who goes to the ground as part of religious expression, and as a result there should have been no penalty on the play."
I don't know much about football or the NFL beyond what I gleaned from my brothers growing up. But I do know that when I first heard about the penalty, my thoughts were, "What about Tim Tebow?" I mean, slide or no slide – the guy gets penalized for prostrating, when hundreds of football players before him have thanked God in a variety of ways for touchdowns, tackles and other key plays?
But beyond the penalty, beyond the vindication that the NFL now says Husain shouldn't have been penalized, what has stayed with me is the continuing class and dedication of Husain to being a quality football player and a quality Muslim man.
My friend Hena Zuberi, who is the editor of MuslimMatters.org, often writes updates and tweets with the hashtag #RaisingMuslimMen, calling attention to the challenges and importance of raising boys into upstanding men – men who are good humans, good citizens and good Muslims beyond the stereotypes and patriarchal and culture baggage that can often weigh them down.
As a mother to two sons, the responsibility of raising boys with a good balance between deen and dunya (their faith and their worldly goals) weighs upon me too. I want them to pursue their passions, be dedicated to family, be happy in their lives, have strong morals and be good Muslims. While my game plan is different for my 14-year-old (severely affected by autism and nonverbal), I'm storing up the example of Husain and Hamza Abdullah for my seven-year old (also named Hamza).
We are again in the Hajj season, with millions of Muslims the world over descending on Makkah to perform the rites of the pilgrimage this week. Many parents like myself are using this time to teach our children about the beauty of the Hajj, the unity and generosity and feeling of one-ness that comes over the pilgrims – feelings we try and replicate in our own ways at home through the doing of good deeds and the giving of thanks for all the blessings in our lives.
So I have to say – I loved how Husain Abdullah gave thanks Monday night. I applaud his parents. Because it isn't easy #RaisingMuslimMen.