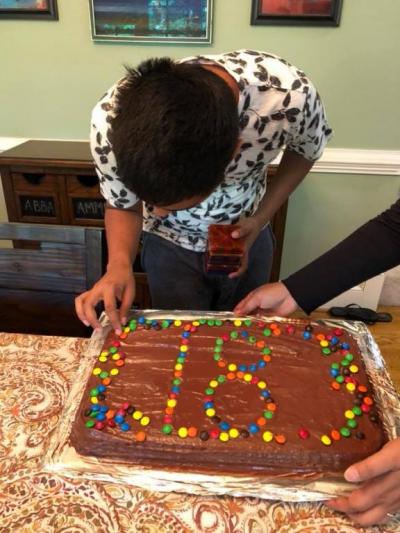 When we drove home (my parents' home still felt like home to me, even though I had been married for a little more than a year) from New York to Maryland – D and I with my mother and father – he was barely the length of my arm. Born four weeks early after a difficult pregnancy that took both my husband and I by storm, D sort of drowned in his newborn onesie, hunched over in his car seat underneath his seatbelt next to me in the back of their car.
He looked uncomfortable to my inexperienced eyes, and promptly started wailing on the four-hour drive to my parents' home.
I was going home to spend a couple of weeks recovering from what had been a tumultuous past several months, my body bruised by taking daily injections and sore from a c-section scar due to the emergency delivery. They don't tell you this when you get married – that bringing forth life can put your body through an unimaginable wringer. And that afterwards recovery is pushed to the backburner, as baby's needs emerge front and center.
Yan daido meriku (give him to me), my mother instructed, as I struggled to shush D in his car seat.
But Ma, you're in the front seat, I told her, and then silently unbuckled him and passed him up, grateful that she was there to take over. And yes, we broke every law in that moment and by writing this I'm probably bringing down the wrath of every rule-following person upon me. I don't excuse the decision. But I was young, and we're talking 18 years ago.
She held him, wrapped in his blanket, in her strong arms on her lap, and he immediately settled down. I settled down as well, slumped my shoulders and shut my eyes, trying to snatch some rest on the beginnings of a journey that would shake our families to our cores in ways we never foresaw or imagined.
This beautiful, tiny, skinny baby entrusted to my and his Baba's love and protection.
**********
Driving the 2-3-hour route from my parent's home to mine the other day, it was just the kids and me in the last waning days of summer break. I have traversed this drive countless times since it was just D and A (no H) at the ages of five and two. Some drives have been utterly terrible and chaotic, leaving me staggering under the weight of mom guilt for subjecting my children to the confines of our car with D enduring his autism struggles, and A and H shrinking into their seats while covering their ears.
Many other drives have gone smoothly, much to my relief.
D is a newly-minted 18-year-old now, and A has just turned 15, H is 10. This tribe of mine has grown together in support and solidarity, as only siblings who walk the same path together can. My mom guilt still hovers under the surface when meltdowns emerge, and we all manage in different ways.
I think about how it'll only be maybe two years until A is driving, and how maybe then I can turn over the wheel to her on these drives and take up the reigns of supporting D and diverting attention where it needs diverting. But then D abruptly lets out a piercing scream, and I am momentarily shaken in my driver's seat. The screams continue for several minutes, but it's only the first one that catches me off-guard, no matter how on-guard I am.
I've been driving my kids around for 18 years and am best used to and equipped to handle our unique family driving experiences. I don't know if A, when she will be a nascent driver, will be able to manage. I don't know if I'll trust her to manage even when she is an experienced driver. I relay these thoughts to her
Well, Mamma. We'll just have to see what kind of a driver I am and how confident I am.
True, and in that moment, D regains himself. The equilibrium is reestablished in our car. We drive the rest of the way home in relative calm – the kind of relative calm that has become our family's hallmark.
**********
The guests are coming for D's 18th birthday swimming extravaganza. In trying to be cognizant of what D would want on his birthday and balancing our family's excitement about doing something to mark this momentous occasion, I have invited some of his classmates and friends from school as well as beloved current and former teachers and home therapists over to swim with D and hang in our backyard. My parents and brother's family are in town for his birthday, turning this day into a much bigger one then I had planned originally.
I am praying he 1) doesn't lose it because of the amount of people, and 2) hopefully enjoys at least the swimming part of the day's events.
A few hours before guests are to arrive, as the family hangs out in the kitchen and family room area, I text my husband, who has disappeared for half an hour by this point. Where are you? Come downstairs and hang out with us!
He texts back: I'm having a moment. It all kind of hit me just now. I need some time.
Now? Now, I think to myself? This is all I've been perseverating on the past year – D's 18th birthday, the transition to "adult autism" and all that it entails (legal guardianship, social security, Medicaid and other transitions to navigate) as well as working through the personal emotional meaning of it all as other turning-18 peers in our family and among our friends graduate from high school and prepare to leave for college and other adventures.
I am taken back to D's birth day – to when I was lying in the hospital bed, waiting to be cleared for the c-section. Having been on a certain medication throughout my high-risk pregnancy (self-administered through injections), my obstetrician is waiting for certain blood levels to go down before performing the surgery. From 5 a.m. until 11 p.m. I wait for the all clear, and around 10:30 pm, when it looks like we are close to a go, my husband has a moment. A big one.
Sitting next to me in the room, he sinks his head into his hands. I am alarmed. Kya hwa? What's wrong?
It just hit me, he says. We're having a baby. It's barely been a year, and we're having a baby.
Um, where were you the past eight months? I ask him. Did you not see my belly growing? Did you not see me taking shots? The bruising? The ultrasounds? The multiple trips to the doctor?
I know, I know, he replies back. I was there with you all, but it didn't feel real. It feels real now. We're about to have a baby. I'm going to be a Baba. I'm going to be the baby's Baba for the rest of its life.
I waver between love, sympathy and utter annoying disbelief. What do you mean it is hitting you now? What do you think I was doing the past eight months? All my worries and pains and preparations? But I have no time to process or help him process his emotions, as I'm getting wheeled into surgery.
It's the same now, on the day of D's 18th birthday – I've been talking for months about all I am doing to prepare and walk D and our family through the legalities of his turning 18. I am struggling with my own emotions and the frustrations of navigating social security, Medicaid, guardianship and other things. While I haven't exactly leaned on my husband through all this, I have kept him in the loop, including being open about the squeezing of my heart.
Now, on the day of his birthday, it is all hitting him, and his heart is being squeezed by all that is, all that will not be, all that is beautiful, all that is painful and all that is to come.
We all process in our own ways, and so I leave him be upstairs while D bounds around the house, waiting for pool time.
**********
There is the baby laid in my arms, full of promise, with a path unchartered, pristine and stretching out in front of him and us with boundless possibilities. There is the 18-year-old young man with a face that needs shaving and smile that won't quit, sitting on the sofa in front of me with his Baba, playing with his favorite Magna Tiles. His younger brother flies a Millennium Falcon around the family room while his younger sister checks Snap Chat on her phone.
It's rare for D to hang out with all of us in the evening, when he usually retreats to his room to settle down and get away from the onslaught of people and loved ones in his life and work through his anxiety in his own way, on his own time. So, I cherish this scene in front of me
This month, this turning of 18 has been the beginning and culmination of many things for him and us, as we've witnessed from afar the stories and photos of college drop offs and that bittersweet feeling parents have of settling their son or daughter in college. Next week my kids are back in school, including D, back for another year at his private autism school, for which I'm utterly grateful.
None of this wrestling of feelings is to take away from all that he is and all we are proud of. But, there are days I bear witness to utterly dark, difficult things, struggling to help find the medical, sensory, behavioral, educational and other supports he needs. When the path stretching out in front of him chokes me with worry and renders me undone. He is still nonverbal (but not noncommunicative). His autism profoundly shapes every aspect of his life and thereby our lives. But, we have a rhythm, an understanding, a parental-adult-child bond informed by public and private emotions, both known and unknown.
I wonder what D sees. What he feels. How he views his future.
Is it full of promise with a path unchartered, pristine and stretching out in front of him? God, I pray so.