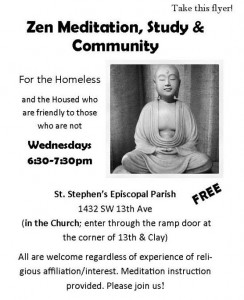 Last week I went downtown, flyers in hand, to get the lay of the land for our Zen group for the homeless and the housed. I wanted to be in the space we will be using at the actual time of the week we will be holding the group: Wednesdays, 6:30-7:30pm, in the St. Stephen's Episcopal Parish Church. What was the lighting like, what was the program taking place in the other part of the building like, how many chairs were there, after all?
The scene at the church on Wednesday evenings is quite lively. In the parish hall there is a program called The Underground for youth 25 or under. Young folks can come hang out in a warm, safe, positive atmosphere from 5 until 10 pm. Think games, pizza, hanging out. I got to introduce myself to the organizer/chaperone of the group, Ken Loyd, and he was supportive of what we plan to do in the other part of the building on Wednesdays.
I felt pretty nervous and almost silly hanging around, looking for tacks so I could hang up my flyers. I realized I was feeling kind of shy. How would people react to me? What if I couldn't handle the situations I was going to meet as I went about trying to make this offering? Was I going to seem like another annoying proselytizer, taking advantage of people who are down on their luck in order to get more people on my spiritual bandwagon?
Most importantly: would anyone come?
It occurred to me that I should be more forward – walking around introducing myself to the youth in the room, asking if anyone might be interested in a Zen meditation group, offering the little 1/4 sheet flyers I had prepared. That I should similarly offer flyers to the guys resting, with all of their earthly belongings, outside against the church doors. But I didn't, worrying that I would seem presumptuous (assuming they were homeless or in need), or that they would gruffly tell me to bug off. Instead I quietly made some notes about what I needed to prepare for our first meeting, and then set off for the nearby Safeway to buy some thumbtacks for hanging my flyers.
On the way back from Safeway I passed a fellow lying on the pavement, leaning against the Plaid Pantry building. I had seen him before. He has a long, tousled beard and the general grunginess that speaks of living on the streets. I passed him, clutching my little flyers, watching my stomach flutter with nervousness as I imagined the possible negative reactions I might face if I approached him.
After walking about 20 feet, I uttered an internal, "Dammit!" and turned around. I stopped in front of the man and leaned down a little. "Do you know anyone who might be interested in a Zen meditation group?" I asked.
"Hmmm…" he said, reaching for a flyer and giving me a small smile. "Thanks!"