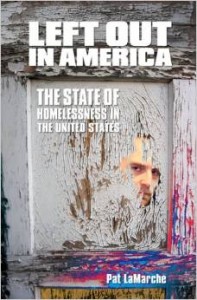 My Zen meditation group for "the homeless" hasn't even met yet (we meet for the first time next Wednesday), but already I've gotten to meet my own fear and ignorance about what I'm trying to do. I wanted to write something on this topic now, before I start getting over my trepidation and learn more about reaching out to people living outside or with little or no income.
I hope the ignorance and concerns I reveal here don't offend the friends I make through this work in the future, but I want to share my struggles because I think they are similar to the challenges facing anyone who actually tries to "help." As I state in my description of this blog, one of the things I'm interested in is "a better understanding of what keeps nice people like me from getting more involved when so many beings are suffering."
First of all, my friend and mentor Rev. Paul Davis recently – and kindly – informed me that it's best to avoid the use of the term "the homeless." (There goes my great name for the group – "Zen Meditation for the Homeless and Their Friends.") While certain services are clearly intended for those literally without shelter, many – including mine – are actually needed by a wider population, most of which is at risk of homelessness. These are the many people living in shelters or subsidized housing, "couch surfing," and struggling with poverty. Which category – homeless or housed – someone finds themselves in at any given time is partly a matter of chance. I imagine, also, that belonging to a category of "the homeless" could add insult to injury.
This certainly raises the question of how one can serve, target, or discuss people who are homeless without using the term "the homeless." I guess I'll find out. There are plenty of people and organizations doing it.
In the meantime, I notice my embarrassment and discomfort around my blunders in terms of language, prejudice, assumptions, class, and culture. What keeps coming to mind is a chapter in a book I read recently, Left Out in America: The State of Homelessness in the United States by Pat LaMarche. LaMarche accepted the vice presidential nomination from the Green party in 2004 in large part because of the publicity it could give causes dear to her heart. While campaigning for VP, LaMarche arranged a 14-day journey during which she would travel and live in 14 different homeless shelters across the country. (The campaign asked permission wherever they went, were adamant that LaMarche would not displace anyone else needing shelter, and coordinated volunteers in each location to benefit the shelter in some way.)
In Los Angeles, LaMarche had spent the night in a shelter space with a family. Early in the day LaMarche had met the woman and two children she would be staying with, and then had some political events to attend. Before returning to stay in the evening, she bought a couple nice little presents for the children, only to discover upon arriving back at the shelter that the woman had six older children in addition to the two she had met. LaMarche gave her presents to the two kids and struggled with awkwardness and shame for the remainder of her stay. The next morning, as she was driving away from the shelter, she looked back and saw one of the older boys wearing a fleece jacket she had inadvertently left behind. "There," she thought, "at least one more of them got a present."
However, later in the trip LaMarche stayed at a women's shelter in Chicago Illinois. Here people were not so enthused about her little project. "Condemnation, cynicism and contempt poured out of most of these folks" as soon as her supporters left her alone in the shelter, she reports. In an attempt to establish some rapport, she told a story on herself about the gaff around the presents in Los Angeles:
"I told them how happy I had been to see one of the older kids wearing my jacket and that I had felt terrible about singling some of the children out for gifts and neglecting the others.
"They all started to laugh. They were laughing at me. I sat there mystified by their guffaws. Finally one of the women solved the riddle for me. "You didn't give him your jacket because you wanted him to have something. You gave it to him because you were scared to take it back."
She shocked me. I couldn't believe my ears. I must have looked like a dog with his head cocked off sideways in disbelief. I told her that I didn't think so: that I didn't remember feeling afraid . I searched my mind to remember the feeling I had when I saw the young man in my jacket. I told her that I distinctly remember feeling relieved and happy.
The minister spoke then. She told me that I was afraid of black people and that I didn't even know it. She said that my fear ran so deep that I could convince myself that it didn't exist. I wanted to tell her about growing up in a project and living with black folks; that I could never remember feeling frightened. But I knew it would sound lame, like my trip across the country sounded lame to these women.
And I couldn't be sure she wasn't right . I didn't think I was afraid of any kind of people. I thought that all races and colors and religions and every other sort of group had some great people and some frightening people, but what did I know?"
This was the low point of LaMarche's trip, and she had many other experiences and connections with people along the way that were rewarding and inspiring. Still, the thought of being in a similar situation to the one she describes above makes my skin crawl.
What do I know about living with racism, poverty, mental illness, or drug addiction? What do I know about being warm and inviting but also putting up appropriate boundaries with people whose behavior can be chaotic and volatile? What do I know about serving a population after whom, presumably with good reason, it is advised you clean up after with bleach water? Of course, not all – or even most – of the people who will come to my group will prompt these kinds of concerns, but when you open the door, you never know what will walk on through.
The whole thing, strangely, triggers in me the kind of insecurity I haven't felt since grade school. It basically comes down to, "What if people reject me?"
Isn't that interesting? Here I am, hoping to "do some good for those less fortunate," but far from feeling somehow superior to those who are living on the streets, or in subsidized housing, or in poverty, etc., I am afraid they will reject me and my offering. (Don't worry, I'll get over it; I'm just observing and confessing.) I wonder what "those less fortunate" would think if they knew that I secretly longed for their understanding, compassion, and teaching?
I guess I'll have to tell them.