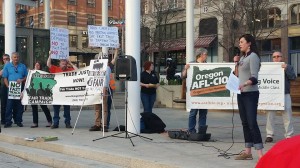 Yesterday I attended a rally in downtown Portland against fast-tracking the Trans-Pacific Partnership (TPP) trade deal. I went by myself and incognito (that is, no one could tell I was a Buddhist, let alone a Zen priest). That was fine, but I did find myself wishing a had bunch of Buddhist buddies with me, and that we could march together behind a banner saying "Buddhists for Climate Justice" or something like that. The rally was organized by the Oregon AFL-CIO, so the trade unions were there in that public kind of way – many of them in uniform, complete with safety vests and hard hats.
I also realized that, dammit, if I wanted to be able to march publicly as a Buddhist, I was going to have to get some Buddhists together and engage in dialogue about what we should march for, when, and how. We might even need to engage in some kind of democratic process.
The idea of making such an effort, frankly, makes me want to pull my hair out. I picture endless, complicated doodle polls trying to find a time for all interested parties to meet. I imagine drawn out, repetitive discussions that call into question the basic premises of the discussion itself. I picture tabling any action for months, waiting for consensus on things people have little time to think about.
You can probably guess from this I'm an impatient person. I always tended to charge off in some direction and then work with whoever comes with me. However, I am now ready to acknowledge the power that results from the result of a democratic process. And although I posted information about yesterday's rally on all of my social media outlets, I saw only one other Buddhist there and she had come on her own.
I worry that even a bunch of relatively like-minded Buddhists will never agree on anything. Take demonstrating against the TPP, for example. I picture members of whatever direct action Buddhist group we formed arguing that they believe what the government has posted about this new trade deal, namely, "President Obama's trade agenda is dedicated to expanding economic opportunity for American workers, farmers, ranchers, and businesses. That's why we are negotiating the Trans-Pacific Partnership, a 21st century trade agreement that will boost U.S. economic growth, support American jobs, and grow Made-in-America exports to some of the most dynamic and fastest growing countries in the world." (From the Office of the United States Trade Representative website.)
I would feel quite unqualified to argue the minutiae of trade deals with anyone, but I find it pretty convincing when the AFL-CIO comments on the TPP, saying, "The AFL-CIO has provided the administration with ideas about how to improve the U.S. trade positions so they work for the 99%, not just the 1%. Unfortunately, it is an uphill battle; the global corporate agenda has infused trade policy with its demands for deregulation, privatization, tax breaks and other financial advantages for Big Business while shrinking the social safety net in the name of 'labor flexibility.'"
I find the AFL-CIO perspective convincing not because I've got a PhD in economics (I don't). I find this convincing because I can't find anything in the store manufactured in America anymore. I find this convincing because one working adult used to be able to support a family, and now middle and working class families struggle even if two adults are working full time. Our past trade deals have not delivered on the promises attached to them.
Parts of the secretly constructed TPP have been made available by Wikileaks, and from what has been seen so far, the agreement appears similar to past trade deals in that it primarily serves the interests of multinational corporations while only giving lip-service to worker protections and the environment. The Northwest Labor Press talked to Congressman Peter DeFazio (D-Oregon): "These things can change at any time," DeFazio told the Labor Press by phone, "but the last time I checked, the environmental provisions were meaningless and the labor provisions were non-binding, yet the 'investor-state' provisions were stronger than ever: Corporations can sue the United States of America for a loss of anticipated profits – to undermine environmental, labor or consumer protection laws."
Many people are realizing that free trade deals pose one of the biggest threats to mitigating climate change. In her book This Changes Everything: Capitalism vs. The Climate, Naomi Klein reports on an interview with Steven Shrybman, an international trade and public interest lawyer, who said, "'If the trade rules don't permit all kinds of important measures to deal with climate change— and they don't— then the trade rules obviously have to be rewritten. Because there is no way in the world that we can have a sustainable economy and maintain international trade rules as they are. There's no way at all.'"
Adding insult to injury, Congress is considering "Fast Tracking" the TPP. This would require Congress to hold a yes-or-no vote on the deal within 90 days of the time the president submits it, with limited debate and no amendments. You've got to wonder why that's necessary.
Could I get a bunch of Buddhists to agree to protest against the TPP, or at least against fast tracking it? Or to allow the group they belong to publicly protest it, even if they aren't personally involved? I wonder. Is it worth the effort? I like to think so. We'll see.