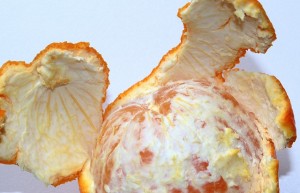 I am going to present an alternative to mindfulness practice. I do this because I believe the concept of mindfulness – at least the way it is typically understood – can limit our spiritual development. It can become a dualistic trap that causes us to reject much of what we are as human beings.
However, before I describe the potential pitfalls of mindfulness practice and offer a different approach that has worked for me, I want to discuss the metaphor of fingers pointing at the moon. "The moon" stands for the truth, Dharma, Reality, or the essence of the matter. Teachings and practices are fingers pointing to the moon, and are therefore valuable only inasmuch as they manage to help sentient beings spot the moon. They are not the point in and of themselves.
Inherent in this metaphor is the suggestion that sometimes we can become too obsessed with a finger and forget about what it's pointing to. It also invites us to consider that there are many different ways to point to the same moon. One finger may work for us, while someone in different position needs a finger that may appear, from our view, to be pointing in a completely different direction!
I think the teaching and practice of mindfulness is a finger pointing at the moon and not the moon itself – but first, a little more about the teaching and practice of mindfulness.
Mindfulness was taught and strongly emphasized by Shakyamuni Buddha himself, over 2500 years ago. The ancient Pali word translated as "mindfulness" is sati, and it can also be translated as "remembering" or "presence of mind." We are practicing mindfulness when we remember to pay attention to our present experience and try to keep ourselves from forgetting again.
Mindfulness has also been described as our "non-discursive faculty of awareness" or as "bare attention." Jon Kabat-Zinn, who over the last few decades has popularized the use of mindfulness techniques in secular settings, defines mindfulness as "continuous non-judgmental awareness." More specifically, he explains, "Mindfulness is awareness that arises through paying attention, on purpose, in the present moment, non-judgementally… It's about knowing what is on your mind."[i]
For most Buddhist practitioners, our initial efforts at mindfulness are challenging but also powerfully transformative. We become more and more aware of what's happening in our minds. We notice our reactions. It can feel like someone has suddenly shined a light on our lives and there's all kinds of things we can see for the first time. This allows us to make many changes, and facilitates greater understanding of how we function as human beings.
So – isn't the whole point just to be mindful – that is, "present in our lives?" How is mindfulness just a finger pointing at the moon?
Before I explain, I want to state that I think it is essential that we start our practice with mindfulness. We also benefit from returning to that practice again and again over the course of our days and lives. What I'm going to talk about here is how we move beyond mindfulness and avoid (or drag ourselves out of) the potential pitfalls of the practice. I discovered these pitfalls by falling into them, so, in part, this is a confession of my own struggles with mindfulness.
The first pitfall is that we conceive of pure mindfulness as a state without thoughts. When we're "mindful" we're just peeling the orange, just tasting the coffee, just walking. Rather than wandering off into the dream-world of thoughts, we are present for "reality" – which means only what is happening in this moment, in our immediate vicinity, perceptible through the five senses of sight, hearing, taste, smell, and touch.
We encounter the second pitfall when we try to sustain a state of mindfulness through the inevitable thoughts, feelings, and impulses that arise in the course of our lives. We admit to ourselves that our state of mindfulness is rarely pure – that is, free of thoughts – but we work hard to maintain a second-best state of mindfulness by staying identified with an internal "observer" who is aware of, but not involved with, the thoughts, feelings, and impulses. We think we need to maintain a detached self-consciousness at all times, allowing us to make internal comments like, "Oh, look, I am experiencing some sensations of anger."
In the third pitfall, we divide our lives into two parts: one, where we are consciously aware of what's going on in the present moment and are therefore "awake" and present for our lives, and two, the rest of the time when we're caught up in the dream of thought and missing our lives as surely as if we were sleeping through them.
In the fourth pitfall, because the dreamy/sleepy/caught-up-in-thoughts parts of lives comprise over 90% of the time for most of us, we become burdened with a sense of sadness and inadequacy. We try harder but wonder why we still keep forgetting to be present. We suspect we misunderstand the teachings and practices. We figure we must be doing something wrong, because mindfulness teachers tell us that eventually we're going to get better at this! And while it's true that we got better at first, we've hit a plateau in our development of mindfulness that seems endless. Most of us resign ourselves to being half-assed practitioners in some respect and just lament how much of our lives we aren't "present for."
Okay, so now you know. I've been meditating and practicing mindfulness for over 20 years and throughout most of my day I'm not "mindful" – at least not in the sense I've been discussing.
Maybe
– on a good day – I manage to be mindful 20% of my waking hours instead of the essentially 0% before I started practice, but it still feels like most of the time I'm mindful for a moment – "Oh, here I am! I'm being mindful!" – and then off I go again. The second I think of something, plan something, engage in a conversation or a project, or get absorbed in work, reading, music, beauty, or entertainment, the apparently fragile state of mindfulness is lost.
Fortunately, mindfulness is a finger pointing at the moon, not the moon itself. Please note: If you "find the moon" through mindfulness, super! If mindfulness has relieved suffering for you, if it's a profound practice you rely on every day, keep practicing mindfulness and let what I'm going to say go in one ear and out the other. Try not to let it bother you at all.
What I'm offering is a different way of pointing at the moon, one that may help you like it's helped me. I call it, at least at this point in time, the "Radical Practice of Unified Presence." I call this practice "radical" not because it is revolutionary, but because it is (or can be) complete in and of itself and gets straight to the heart of the matter. Of course, it may very well be I have misunderstood "mindfulness" and what I describe here is exactly what the Buddha meant by "mindfulness." If that's the case, then it just proves my point: Both the Buddha and I are looking for the moon, and different words and practices are simply different ways of pointing at it. But let me tell you, encountering the right kind of pointing (for you) makes all the difference in the world.
Ironically, the Radical Practice of Unified Presence begins with a moment of mindfulness.
I don't have any problem with that first instant of mindfulness, which is basically when we wake up from the dream of thought and notice what's going on. That's the aspect of mindfulness reflected in the translation of sati, the Pali term for mindfulness, as "remembering." That moment of remembering is so sweet! It is so precious! It's what makes practice possible!
It's also not something you can will yourself to do. It just happens. You are asleep one moment and then you wake up.
That's not to say you can't do anything to make it more likely you'll wake up more often. That's why we meditate and study. That's why we cultivate aspiration and intention.
To make sure we wake up more often, we also need to treasure and celebrate the moments we wake up. Instead of beating ourselves up for all our previous forgetfulness the instant we become mindful, instead of seizing the moment of mindfulness with the determination to make it last, we can greet a moment of wakefulness with pure gratitude. This will help it last a little longer, and it will make mindfulness pleasant instead of associating it with striving and frustration.
Then we come to the next moment, when we seek to sustain – what? Mindfulness? Remembering to be present itself isn't hard – it's sustaining a state of mindfulness for more than a moment that's hard, especially if you've fallen into one of the pitfalls I described earlier.
This is where I recommend a different approach. Instead of trying to sustain a state of mind in which you are consciously aware, and either thoughtless or taking the role of detached observer, you unify yourself. You take the opportunity to show up wholeheartedly for your life. You settle into your body and your direct experience, and refuse to be tricked into looking anywhere else (as if you could). You stop the internal struggles and own your body, mind, and heart.
This is all just more finger pointing, but this approach to practice may become clearer if I try to describe the moon itself. One way of seeing and understanding the moon is as a Way of Being. It's a liberated, authentic, joyful, centered, beneficial way of being a being. It's not a point of view, a kind of understanding, a transcendent experience, or a code of ethics. It's something you experience with your whole body, mind, and heart. It's how you are as you meditate, speak, drive, eat, brush your teeth, and watch movies. It's not limited to being thoughtless or self-consciously aware of being mindful. This Way of Being is how Buddhas are.
To further illustrate what this Way of Being is like, I'm going to ask you to imagine your whole body-mind-heart experience of a bunch of different scenarios. Each scenario is mean to evoke something in you – some aspect of a Buddhas' Way of Being. A Buddha's Way of Being isn't limited to any one of these aspects, and it's not dependent on external circumstances. However, because it's so difficult for us to conceive of a Buddhas' Way of Being, it helps to imagine situations we can conceive of.