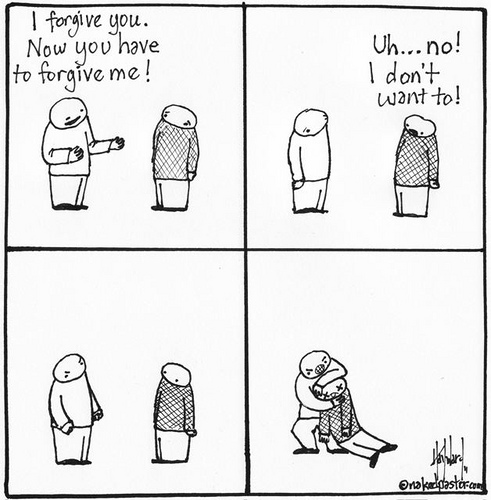 Jesus told a story of a man who was forgiven a huge debt. Enough to retire on. After he was released from his debt and left the courtroom he found a friend who owed him a little money. Enough for a coffee. His friend couldn't pay. So he choked him.
Forgiveness means giving someone something before they deserve it. You give it before they ask for it or before they even think they need it. You give it before the payment date to remove the debt. There can be no strings attached. You can't even expect warm feelings in return.
True forgiveness is that the forgiven person doesn't even know it. Perhaps the ultimate forgiveness is that the forgiver doesn't even know it. (This reminds me of Derrida.)
(
Download my ebook "nakedpastor 101" for .99¢
.) To download the ebook, –>
click here!
 <–
Check out my originals and prints of my art, cartoons and Sophia drawings.