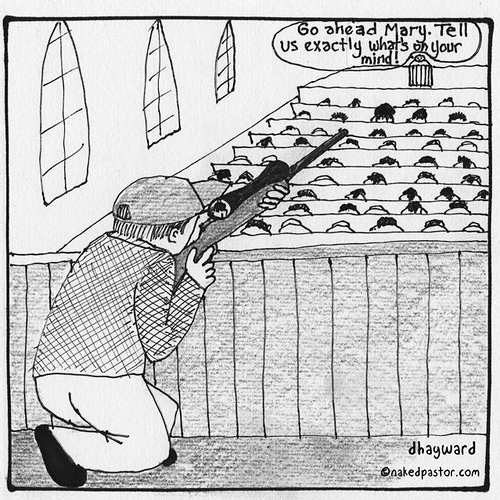 This happens in many organizations. You all know the high risk of accepting from authorities the invitation to speak your mind. When you dare speak your mind, you can feel something drawing a bead on you. You know you've opened your mouth and shared your thoughts and feelings to your peril. You learn pretty quickly that you keep your finger on the edit button.
Good friends and families are different. They can and should be places where you can be authentic and honest. That's what good friends and families are… places you can be you with your distinctive personality, feelings and thoughts. The edit button is rarely played.
What's the difference? Organizations have a purpose. They have visions and goals to be achieved. You are a cog in the wheels of the machine. You are there to serve that purpose and not irritate it. With friends and family there is no purpose. There is no vision. There is no goal. They just are. They are sanctuaries of being.
Now, organizations such as churches who determine to be a fellowship of friends and a family of loved ones… now that's something to see.
If you are interested in acquiring my original cartoons or a print, just email me.
Download my cartoon ebook, –> click here! <–
Check out my originals and prints of my art, cartoons and Sophia drawings.
Or get the paperback from Amazon: