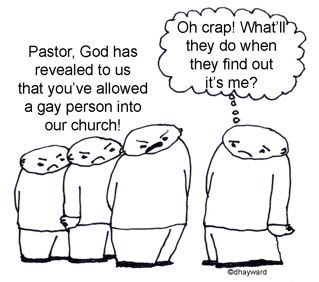 There are communities where you don't have to live under fear of being discovered, where you are accepted and embraced as you are, where you don't have to constantly hide or deny your identity. I know because I've been a part of them and visited them. They are very special sanctuaries.
But they are rare. Which is why they are so special. If you find one get adopted! My hope is that their numbers grow. I do sense a rising tide and that eventually people will recognize they are to be as fully inclusive as their god is. My greater hope is that we would precipitate the inevitable by voluntarily and willingly initiating the change now.
If you know your history at all, the earliest Christians were persecuted and marginalized. Until Constantine. Then they became the power brokers. Those who had done the persecuting and excluded experienced that which they inflicted. History repeats itself. What if one day those who are now excluded and marginalized becomes the group the rest will want to become a part of?
If you are interested in acquiring my original cartoons or prints, just email me.
Download my cartoon ebook, –> click here! <–
Check out my originals and prints of my art, cartoons and Sophia drawings.
Or get the paperback from Amazon: