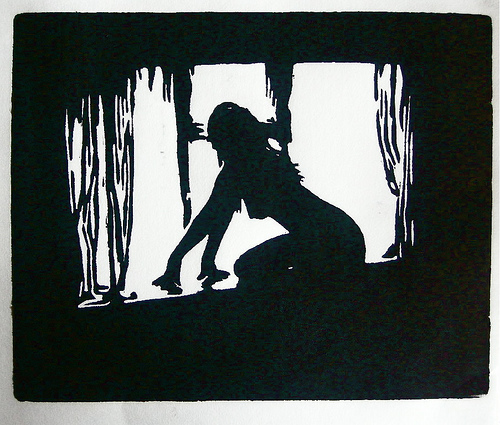 This is a woodcut print that I made a couple of years ago. I've decided to add it to my Sophia collection. It is in the same spirit. It captures the same mood and weaves itself into the same story of a woman on her own path to self-discovery and independence.
Here Sophia waits, gazing out the window. True love will come. She instinctively knows what it looks like. She will settle for nothing less.
I totally believe in the maxims "Follow your bliss!", and "Pursue your happiness!". However, I also believe that there are times when one should wait. It is good advice to receive: wait for true love. Don't settle! Don't just go after that which promises immediate gratification or a quick jolt of happiness. Wait! A truer and deeper happiness will come.
One of the worst times to make a decision for happiness might be when you are really desperate for it and very frustrated with your present situation. I've discovered that sometimes waiting and wading through it brings you to a deeper happiness than one could ever imagine possible and that would be completely missed if you acted on your immediate desires.
Settle for nothing less. Wait.