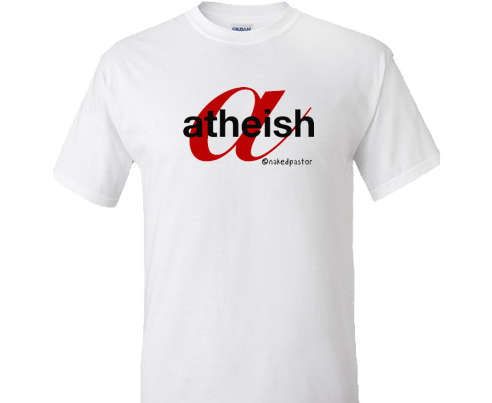 You are not an atheist, but neither are you not.
I'm giving away 5 atheish t-shirts, thanks to the incredibly generous guys over at WhoopTee. Go check them out! Really nice folks. And did I say "generous"? I mean… 5 tees!!!!! That means 5 winners!!!!!
For a chance to win all you have to do is:
1. leave a
comment
on
this post
. Even just "hi". You can be anonymous if you want.
2. you must
sign up
for
my newsletter
 (and you will receive my cartoon in your inbox every morning!)
They will ship your tee anywhere!
Sorry, but I won't be responding to comments. Don't take it personally. I appreciate every one of you. But my comments would mess up the draw. Don't be alarmed if your comment doesn't appear right away. I will approve it at some point. I'm at a conference this weekend and my internet access will be sparse. But I'll get to you 🙂
That's it. Only one comment per person. It is a draw. So I will end entries at midnight tonight my time (Atlantic Time… an hour east of Eastern Time). I'll draw the name tomorrow morning and announce it then.
Good luck! Tell your friends.