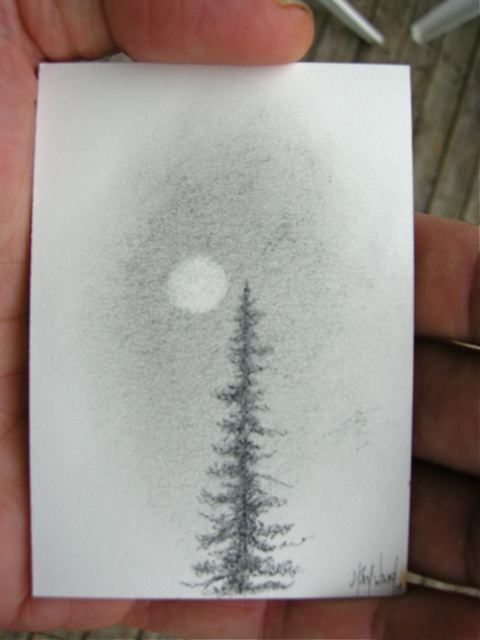 (My other site, davidhayward is developing nicely. Every day I'm adding new features. We have our own chat, and even held an energetic chat room last night. One suggestion that we're going to try to implement today is to make a mobile app for it. Listen: I've found the space I needed to provide people with resources to make spiritual transitions and to learn how to live spiritually independent lives with happiness. I'm personally inviting you to be a part of this project with me.)
So… now for the contest. I'm giving away an ORIGINAL DRAWING of mine! It's a miniature, as you can see it nestled in my loving hand. Technically, in the art world, we call them ACEOs (Art Cards Editions and Originals). I have more in my ETSY store.
For a chance to win all you have to do is:
1. leave a comment on this post. Even just "hi". You can be anonymous if you want.
2. you must sign up for my newsletter (and you will receive my cartoon in your inbox every morning!)
I will ship your original drawing anywhere in the world!
Sorry, but I won't be responding to comments. Don't take it personally. I appreciate every one of you. But my comments would mess up the draw. Don't be alarmed if your comment doesn't appear right away. I will approve it at some point. I'll get to you.
That's it. Only one comment per person. It is a draw. So I will end entries at midnight tonight my time (Atlantic Time… an hour east of Eastern Time). I'll draw the name tomorrow morning and announce it then.
Good luck! Tell your friends.