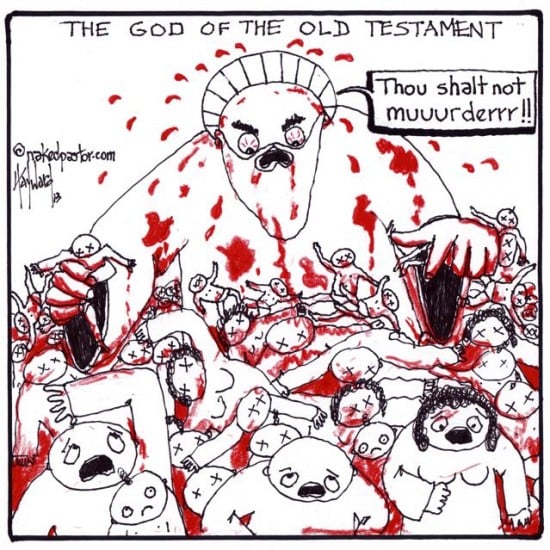 I remember the first time I read the books of Judges and Joshua all in one day. I was overwhelmed with the violence of those books. They are full of blood, flowing throughout their pages, just like the bloody flood in the hallways of The Shining. Men, women and children, as well as animals, are being slaughtered everywhere every day.
Someone sent me an interview of John Piper where he was asked why it was okay for God to slaughter women and children in the Old Testament. His answer:
"It's right for God to slaughter women and children any time he pleases!"
You might accuse me of taking this quote out of context, and I admit it is just one sentence out of a five minute interview. But believe me the rest of his argument doesn't lighten the sentence at all. He means it.
When I read Joshua and Judges in a day, I realized then that these stories are products of their time. They give witness to a god who would have made sense to them at that time endorsing beliefs and behaviors that would have made sense to them at that time. These books emerge from a murderous age. An age of blood and stone. They testify to a time when it was laudable to annihilate the enemy and leave nothing breathing, to stake your claim in the blood-soaked ground and strike fear in the hearts of your foes. They testify to an era when such behavior would be commanded by a Warrior God to a warrior people. They do not testify to what is true, but what seemed true to them then.
Flannery O'Connor, a great author who wrestled with violence, wrote:
"Art always meditates on death, and thus creates life."
Perhaps this is a clue: to approach the bible as art. Art always supplements the truth with graphic illustration… verbal, visual, audible, sensual. It assaults us with assault. Art intends to offend so that we might see.
One of my favorite artists, Barry Moser, who if often criticized for creating dark illustrations of biblical stories, writes in a fascinating article, "Blood & Stone: Violence in the Bible & the Eye of the Illustrator":
"So why all the violence? All the blood and burning in the sacred texts?… I think they are warnings to all listeners, readers, and believers of the dire and mortal consequences of sin and disobedience. And I also think they are simple, vivid images that inflate and decorate good yarns, making them more instructive and memorable. Violence adds impulse and vigor to the tales we tell ourselves and to the narratives of admonition and exhortation. Like salt, it adds flavor to bland food, or when rubbed into a wound, burns while it heals"
They are scary stories meant to instruct us, and they have been handed to us with bloody hands. To use them as historical, literal sources for modeling our beliefs and behaviors after is, in my opinion, a childish and artless mistake.
OH! We're doing a nakedpastor podcast now. Check out our first one!