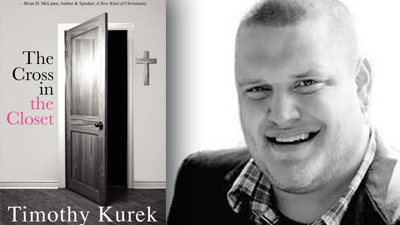 A couple of years ago when my straight fundamentalist friend Timothy Kurek told me his idea of going undercover as a gay person, I was genuinely worried. I expressed my concern. Even though it was an interesting idea, similar to Black Like Me, I thought it was a very high risk venture.
But he did it. He "came out" and was gay for a year. Following this he came out again as straight. Then he wrote a book.
The book is his story. Since it is National Coming Out Day in the USA today, I thought I would promote his book.
I haven't finished it yet. But it is engaging. I'm going to finish it because I'm caught in the story. I just wanted to recommend it to you. He deals with everything, including the feelings of betrayal, lying, sexuality, friendship, theology… you name it.
You can order it HERE.
Here's an endorsement quote from Archbishop Emeritus Desmond Tutu:
"Tim's personal journey and awakening is evidence of the path being taken increasingly today by Christianity and other religions everywhere. This manifestation of respect or God's great diversity allows us to better see the world through the eyes of Christ. The Cross in the Closet is a gift to us all."
Check it out! Thanks Tim.