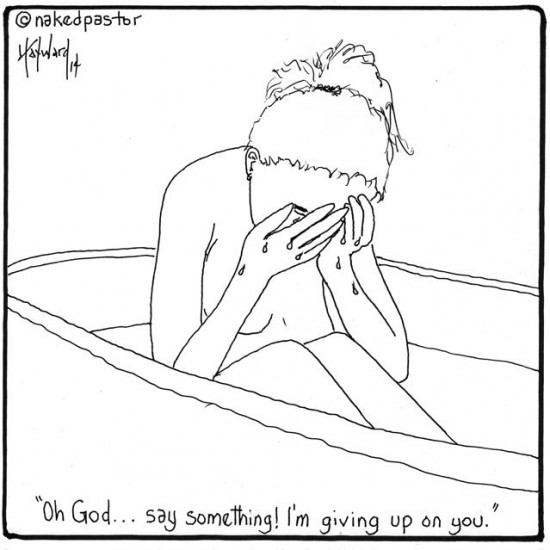 (I drew a picture of a woman praying in the bathtub because from the women I know it's one of the best places to cry alone. If you haven't heard "Say Something" by A Great Big World and Christina Aguilera, then you can experience it here. It's one of those songs that makes me stop and listen and feel deeply.)
What do we do when you realize prayer no longer works?
Admit it: This is the first thing we have to do when we start suspecting that our prayers are no longer working. It's one of the hardest things to admit. We have sly ways of getting around this hard truth that are just dressed up forms of denial: God's ways aren't our ways; or thank God for unanswered prayer; or you didn't wait long enough; or you didn't do it right. The fact is, you prayed for something you really needed and it didn't work. This is like the thin end of the wedge because once you admit that then the whole concept of a benevolent god is challenged and the whole framework of your faith begins to erode. Scary and sad times!
Embrace it: Simply admitting that prayer doesn't work isn't enough. That is only the first step and if you stop there you could get stuck in a kind of spiritual depression. You have to actually embrace it. That is, you embrace the truth that prayer isn't supposed to "work" like some machined magic trick. We come to the place where we humbly realize we cannot control the universe or bend it to our will. We humbly embrace the fact that there are no magic attitudes, words, postures, mental or verbal or religious gymnastics we can employ to get the universe to do what we want.
Deepen it: Again, admitting it then embracing it isn't enough. This is only part way down the hole. I believe the world presents itself as a violent and adversarial place and constantly reminds us that life isn't fair. But I also believe that there is a deeper current at work that is more silent and subversive but stronger, and that is compassion that reveals itself in justice. I think this is what the great people saw and worked with. They saw, beneath the terrible conditions that presented themselves, a necessary and urgent love that, when released and exercised, would manifest a better world for everyone. I believe their "prayers" were aligning themselves with the deeper compassionate purpose that resulted in loving action that changed the world to meet this deeper purpose.
My prayer life has dramatically changed over the years. When someone asks me if I pray, I don't know whether to say never or always. This is intimately related to my view of God, so I treat this question with great caution and respect. Here's my answer:
I no longer view "God" as up there, out there, in here, beyond or remote. For me, the story of the incarnation describes That Which We Call God, revealed in Jesus, then sent as Spirit, as now among us, in us, as us. All is "That-Which-We-Call-God".
While aware of this overwhelming and overarching reality, I allow all of who I am to emerge… all my sorrows, my failures, my weaknesses, my wants, my joys, my passions, and desires, my longings… everything that I am… all of who and what I am… I allow this to rise within me into my awareness to join with the former awareness of the reality of #1 where these two awarenesses abide together.
Mostly these are silent movements, but if there are words or actions, they aren't for a god but for me… to articulate and express all of who I am, to breathe these into the All that I am one with.
I am usually aware of this when I am outside alone. My hiding place. But it happens anywhere anytime, or everywhere all the time. In this way I pray without ceasing because I am all that I am in the All that always is.
I hope this helps some of you through one of the most difficult times in our spiritual journeys… realizing prayer doesn't work. I'd love to hear your thoughts.
****
Did you appreciate this cartoon and my post? If so, maybe you'd like to donate $1, $3 or $5 to the nakedpastor site. Thanks so much!
Or for just $7/month you can support our online community, The Lasting Supper!