In eight weeks, thousands of people of faith will come together in Salt Lake City, Utah for the Parliament of the World Religions October 15-19, 2015. The theme is Reclaiming the Heart of Our Humanity Bring Global Wisdom. It has three major areas of focus this year: Climate Change & Care for Creation; Income Inequity & Wasteful Consumption; and War, Violence & Hate Speech.
CUUPS Board members David Pollard, Maggie Beaumont and myself, along with future board members Peter Dybing and Debra Gilbert will be there on behalf of UU Pagans. To date over 150 people from various earth/nature centered and Pagan traditions will be there.
So what happening at the event? WOW! So much!
The event opens October 15 with the First Inaugural Women's Assembly and Program Initiative for Global Advancement. It is an historic opportunity for women of diverse religious and spiritual traditions to gather to address two critical issues: The responsibility of the world's religions to affirm women's dignity and human rights and to share sources of religious and spiritual inspiration for women's empowerment. Priestess and Parliament board member Phyllis Curott, will be a main speaker at this gathering. Phyllis has been a presenter at CUUPS Convocation in the past.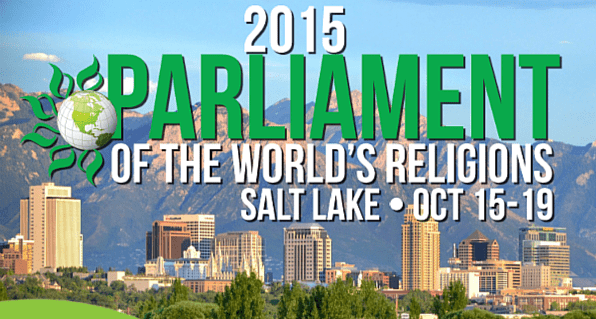 Later that evening the opening plenary of the Parliament opens. Over the following three days there will be over 350 seminars, rituals, workshops and presentations taking place.  Speakers at some of these presentations will include the Dali Lama, Dr. Karen Armstrong, Chief Avrol Lookinghorse, Marianne Williamson, Michael Beckwith and so many others. For more information about the key speakers you can click here!
There will be Faith Spaces for each religious tradition there to have as sacred space to be together and share with others who want to learn more. A Labyrinth will be in place for the entire event. The Indigenous Peoples' Program will present outside of the main entrance to the Parliament The Sacred Fire and Sacred Space. A Peace Quilt from Israel will be on display and an art exhibit will be displayed. Taiko Drummers will perform and on Sunday evening there will be a huge concert of sacred music from a multitude of religions. Currently a multi-faith choir is being organized to sing music from a cantata written for the Earth. The Sikh community will serve Langar, a sacred meal, throughout the conference during the lunch hours free.
I will be participating with other Parliament Ambassadors at the table we will have in the exhibit hall as well as supporting tables from other organizations I am engaged with.  During an event called
A Ritual to Thirteen Goddesses
presented by M. Macha Nightmare, I will be masked representing one of the Goddesses. The entire ritual is done with masks representing thirteen Goddesses from around the world.  There are also rituals being presented by Circle Sanctuary that I will be involved with as will several of the CUUPS contingent going.  As you can imagine there is a lot of excitement happening and so much to take part in.
As an Ambassador for the Parliament, there have been many conference calls with people from Europe, India, Australia and many states across the US. We have been engaged in learning more about the event, planning and facilitating pre-Parliament events in our cities, regions and groups. On some of our calls we have been training about Listening in a deep sacred way. Listening for others, not listening to. It is an incredible way to learn to listen to others across many differences, barriers and thinking. The training leaves me present to the magnificence and resilience of humanity.
At Pagan Spirit Gathering this year, we tied ribbons on a cord with dreams, commitments and prayers for peace and healing of our Earth to take to Parliament. I personally want to invite CUUPS chapters, UU congregations and any group interested to send ribbons to tie on to the cord also. The cord will be used in a Ritual for the Earth to be led at the Parliament. Ribbons can be sent to the CUUPS office. Mark your envelope Attention: Parliament Ribbons. The CUUPS delegation will take these ribbons and tie all of them on the cord. It would be fabulous to include your hearts and dreams for the ritual.
If you are interested still in going to the Parliament, there is time to register! Visit parliamentofreligions.org.
In closing, I want to say I am deeper in understanding that many paths lead to one Spirit. I heard in my calls the beauty of people excited to make a difference for the world together. We are the all children of the Earth coming together. Hearing her heart beat. Singing her prayers. Committed to her longevity. And, most importantly, all will be standing together, engaging in what it will take to make our commitments happen!