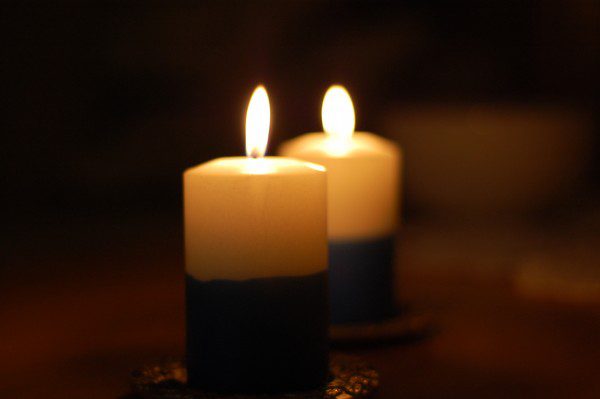 Last weekend, I preached a sermon on what it means to invite people into community.
Certainly, knowing that our community is good, and full of fun people, is part of what we picture as UUs when we invite people into community. As Pagans, there's often an additional layer of tenderness in the invitation. An additional layer of caution. We know what it is to be Other, even among the Other. We don't want that safe space spoiled by a violent rejection of our deeply held beliefs and sacred practices. When we invite someone in, we invite them because we want them to share our best experience of sacred community.
Yet the invitation is not just about us inviting outward to the other.
When we invite people into community, we are also inviting ourselves and each other back into community again. With each person, our community is woven anew, and we, too need to invite ourselves into that newness. We stretch and shift. Our voices interweave with a new voice. We have to get our rhythm again, find the balanced space, listen for the new words invoking the sacred, and find both ourselves and a deeper view of the Divine in what they bring.
This isn't easy work. It isn't supposed to be easy work.
When we invite ourselves into community, each time, we have the opportunity to be blessedly uncomfortable. We disrupt our comfortable space, familiar patterns, and expectations. When we invite others into community this is what we covenant – that we will continue to make our collective still a 'we' and not us and the other. We do this knowing that it isn't easy. Knowing that it means stepping away from a comfortable and familiar circle of experience, and perhaps never going back.  
This is how I follow our principles. I make myself uncomfortable on purpose, because the circle is always bigger than I have drawn it so far. The darkness outside the circle of light encompasses everything. Her holy arms encompass more than the light I can see. I can insist that only the things I can see from up close are safe and good, and close my circle down to only that which I know, or I can lift my light, or add it to those of others, and open up the edges of my space to things I have never seen before.
When I do this, I almost always make some kind of mistake in understanding at first. I misinterpret intent, or mistake someone else's discomfort for anger, or take my own discomfort personally, or feel overly responsible and ashamed when I stumble. I listen to familiar comfortable tales of the dangerous other, and take comfort in my insularity being right and safe, safe, safe. I make a grievance of my discomfort, longing for the easy and simple and known that my culture teaches me is good and right. I make these mistakes even when I am willfully giving up the familiar and comfortable in order to live a more just and compassionate faith.  
Over time, and because of great personal losses and suffering, I have learned that my feelings about discomfort, even deep suffering and hurt, will not kill me. So I can sit with them, and let them be. I can hold my discomfort in my hands gently, with love and compassion for my growing self, and welcome that which is bothering me as a gift from the Goddess, rather than pushing it away and naming it Other, and Danger, and Wrong.
Over time, I have also learned not to clutch the discomfort to me as a proof of my growing, or wave it around to show people that I am able to be Uncomfortable with Important Things. If I yank the growing me out of the soil every time I grow, my roots will all break. I am allowed both the comfort of my own deep roots, and the stretching of my growing limbs.
So here is where I end up with my UU peers of color.
I am white, raised white, look white. I am Pagan UU with a variety of other influences, some European origin, some not. I identify LGBT, and cis female, and have experienced both food and income insecurity. I have a complex history, plenty of struggle, plenty of intersection with people from many walks of life.
And.
I will never be black, or brown, and therefore I will never be able to speak for my UU and Pagan peers of color. I will never just know the truth of their stories, their hurts, and their longing. What I can do is listen.
We can do this. We can listen and promise to hear. Hear and see in their words our own Goddess alive and beautiful and terrible in new stories, different lives, and fresh understanding of our common world.
What we can do is lift up the lives and voices of people who have not had an equal place of value. Our Goddess calls for more from us than that we stand in own little circles and know only the light we have always known, the songs we have always sung.
We can make sacred space for this.
We can step back, widen the circle, and be patient with our own discomfort and growth.
We can stumble and struggle with the unfamiliar words and begin the song again, over and over, until we remember that our feelings of discomfort will not be what kills us, but our inaction out of fear may be what allows someone else's spirit to die.
I believe that we can say that Black Lives Matter, and that by choosing to do so, we begin to open the circle wide enough to make us all equally part of this circle of humanity.
The text of the CUUPS statement in support of Black Lives Matter is listed below. I invite you to read it. Let us go on from here as we mean to continue, together. Blessed be. 
The Covenant of Unitarian Universalist Pagans, Inc., affirms the intention of all members and friends to be in solidarity with those seeking justice and an end to violence. We are called to dialogue, action and maintaining a "a strong voice" to end systematic dehumanizing of anyone due to race, religion, or the prejudicial thinking we put between ourselves and others. We honor all members of the human family on our beloved planet called Earth.

We, the members of CUUPS, Inc., are witnesses and call on members and friends to act as partners in the work to create more justice in our broader communities. We wish to express our deep sadness and outrage in the wake of the numerous and ongoing deaths of black and brown people. None of us can be truly safe or free when some lives have value and others don't. The sacred value of a human life is not superficial.

We must each find the way in which our own gifts meet the need of the world. For some that will be participating in protests on the streets. For some that will be supporting the protesters through concrete or emotional means. For some it will mean writing and talking. For some it will mean getting educated further about unlearning racism. For some it will mean doing research into root causes or effective ways to create more justice; or creating safe spaces for the anger and rage and violence within to be expressed and released. For others it will be providing training and learning opportunities for others.

In particular, we call on every white person to boost the voices of people of color, to renew soul searching for the dimensions of your own white privilege, to find the ways you are called to interrupt the culture of racism, and to take action.

Those of us who look to earth-based or Pagan spiritual sources have particular resources to offer. We offer the soul-enriching connection to earth. We offer ritual and pageantry. We offer theo/alogies of celebration of difference.

Whatever the shape of your calling, follow it. Let us remain faithful to the work that must be done and dedicate ourselves to building a world where injustice is only a memory. We urge all siblings in the human family to return to the sacred sources that feed our deepest selves and remind us that we are beloved children of the divine, woven into one tapestry. Our world can be a better one. We must do the difficult work to make it so. #BlackLivesMatter

Suggested actions include:

Connect with the group "Showing Up for Racial Justice" www.showingupforracialjustice.org
Partner with others in your faith communities to read and reflect together on a book such as one by Ta-Nehesi Coates, Michelle Alexander, or Crystal Blanton.
Heather Petit is a lifelong UU and current student at Starr King School for the Ministry. She is a UU preacher's kid who was raised with a variety of religious practices, including Pagan and Buddhist. As a cultural geographer embedded in the corporate workplace, she focuses on finding ways to move beyond us/them thinking in order to build collaborative teams that embrace the skills brought by people of all backgrounds. She lives in Delaware with her husband, four children, and one very fluffy orange cat.