I invite you to join me in the spirit of prayerful contemplation,
Oh holy spirit who lives and moves and breathes our being, divine love, voice within all, sacred one and many. We call upon you in your form as the love that overcomes all, soothes all, and nurtures the arc of life to bend toward justice.
In the last couple days our news feeds have been full of stories of hatred, anger, violence, pain, and despair. To compound the pain, we discovered that Paris was not alone, but in fact other cities and people had experienced terror that had not made the news. Too many of us, even those of us in the relatively quiet United States, know what it means to have terrorism touch our lives, our loved ones, our sense of connection with the people around us. We weep for all who have had terror touch their lives, and especially for those whose stories were not told.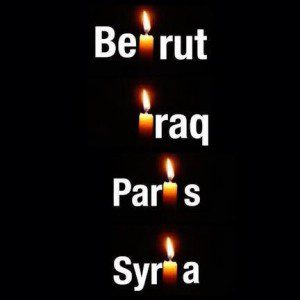 Today, we hold the people of France and Lebanon, and indeed, the people of Russia, Syria, Iraq, Turkey and Kenya in our hearts, and in the solace of divine love. Today we hold all people who are fearful of bombs and guns, those who are mourn loss of life or safety in the sacred sanctuaries of our hearts and in the sacred sanctuary of the holy universe.
These attacks were an assault on our shared humanity, on our affirmation that every person has worth and dignity.
It is at this time of fear and sadness that our community's commitment to love can be most powerful. Let's embrace our siblings in France, Lebanon and across the world. Let us hold all those who are mourning. Let us rise against hate and commit to continue raising our voices and showing up for everything we love. We lift up and celebrate the helpers, the heroes, the people who responded to pain with love.
There are too many of us who know what it means to have oppression and violence touch our lives, our loved ones, and our sense of connection with the people around us. From Syria, from South America, from fundamentalist homes, people have fled in fear of their lives. In cities around the world and close to home people feel unsafe and fear for the well-being of their children. November 20th is the annual International Transgender Day of Remembrance, a time to remember the many lives lost in the last year due to anti-transgender violence.
Today we hold refugees, Trans people, displaced people and people of color in our hearts. May they never feel alone. We lift up and celebrate the strength of the human spirit as our siblings rise again to seek solidarity and find a way forward in love.

We hold tenderly the broken hearts of those who have lead the fight for equality and justice in years past, especially those like me, who lifted up women in the women's community and nurtured Goddess religion, but who stumble in this new world with its evolving understandings of equity. We hold tenderly the bleeding spirits of those who are leading and living the fight for equity now, especially those who are carrying our analysis of gender further, transitioning, and identifying as genderqueer. We hold tenderly the wholeness of those whose intersections of identity live at the intersections of oppression.
We hold joyfully the listening and the compassion that we can and do offer and receive. We hold joyfully allies who honor the rage of the oppressed without simply magnifying it. We hold joyfully the potential for relationships mended and justice affirmed.
Let us be a community that, again, and again, affirms and promotes the inherent worth and dignity of every person, and proves that fear and division will not win out. Let us be a community that, again and again, encourages one another to learn and grow, to fail, apologize, learn and try again. Let us rise together in hope and solidarity. Hatred must not beget hatred. Only love will lead us forward.
We celebrate the joy that we are a community dedicated to living our commitment to love. We celebrate the times that we fail but commit again to love. For all that is our lives, we give our thanks and praise.
Amen and Blessed Be
"True peace is not merely the absence of tension it is the presence of justice."
~Martin Luther King Jr.
Further resources: