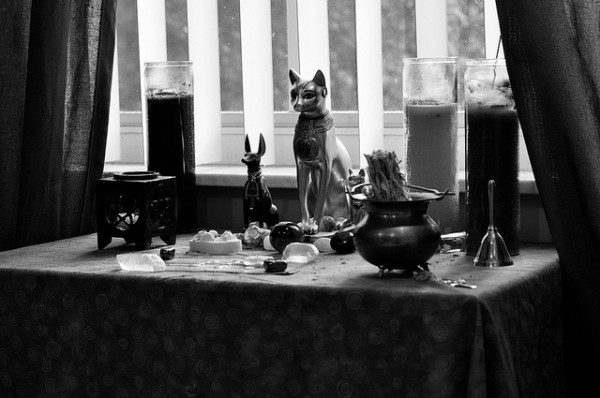 One of the things that appealed to me about earth-centered traditions when I first began my journey into Wicca many years ago is the freedom it gave me to create my own rituals. I am the kind of person relishes in what a friend of mine would call "psychic cues"- those things that surround you and appeal to your five senses, drawing you into the time of transformation that worship provides. Sometimes it can be as simple as lighting a candle and sometimes it can be a beautiful altar cloth, appropriate to the season, with holly and berries, for example, and the smell of wafting incense. Sabrina Maglioccio's book Witching Culture: Folklore and Neo-Paganism in America contains a chapter heading "Ritual is my Chosen Art Form"- an idea which I resonate with deeply.
I know I am not alone. I know many Wiccans and other Pagans who delight in attending festivals where vendors sell us everything from wands, to incense, to jewelry and everything in between. I am definitely no slouch in this department- I own three or four of about everything you can imagine, so I am as guilty of magical excess as the next person. I also have art supplies leftover from countless projects. I was for several years a co-coordinator for New York City Pagan Pride, and one of the things that gave me pleasure about this, besides the charitable aspect of the event, was seeing Neo-Pagan culture expressed with music and art.
But the space devoted to vending at such events often leaves me profoundly ambivalent. Where does a quest for the "right" tool or the "right" candle become excessive? How was this crystal mined, and who made this blade? Is this stuff necessary? What do we really need to practice? Is it a good thing that so many beginning classes on Wicca and other forms of Neo-Paganism take place in metaphysical stores? These are the kinds of questions that have troubled me over the years.
Objects have a life of their own- meaning unfolds whenever we use them. The chancel at the Unitarian Universalist church I serve, for example, has numerous embroideries linked to our sister Unitarian church in Transylvania. These decorations and the chalice are, of course, a reminder of the connections we have with thousands of others who hold to Unitarian Universalist principles. It is because these items are hand-made and evocative of our co-religionists that they inspire us. Therefore, when we create altars – be they as simple as a picnic blanket with a wine glass and a plate of bread, or as elaborate as an ancestor altar with images of and flowers and plates of offerings, it is the intention of each item that inspires us.
When it comes to choosing what to acquire, consider the life of your object. If you cannot make it, consider the maker, the materials, how they were acquired. Consider what you feel and remember when you use it. Consider what the byproducts of its construction are, and where it will be thousands of years from now. Indeed, consider whether you need the item at all, for the tools that usually serve you the best–your creativity, your devotion, and your spiritual practice–are free.