One of the great things about Imbolc—just about two weeks out—is that it's the light-but-not-heat holiday. Today, at quarter to eight the wan sunlight brightens the clouds here in Portland, Oregon, USA. That's earlier than it was. Not sunrise, mind you—that's earlier—but real brightness.
But it's still chilly. In Washington, DC this week, I hear from some of my dear friends, it's going to snow like mad. It's 8 degrees in my hometown today. The beginnings of light, perhaps, but not yet heat.
What is the metaphorical, the figurative power of light but not heat?
The Light of Hope
One thing that comes to mind is hope. Hope is the light that comes through when the warmth of healing is not yet perceptible. Hope is the virtue—a cardinal virtue in the Christian tradition—that keeps us going when other resources have run out.
Winter solstice kind another kind of hope. A spark in the darkness, a moment of brightness, something to get us going. The hope of this time, on the other hand, is the what gets us through the slog.
When people are desperately ill, hope can fuel the long slog toward wholeness and healing, even if that healing is not a cure.
Mud Season
That slog, that putting one foot in front of the other, is not made easier by the fact that in some parts of the Northern Hemisphere, this time is also Mud Season, or as my farming family called it, the January thaw.
I remember one year, celebrating Imbolc with other witchy friends, and wearing sturdy hiking boots, not because of the snow that was still on the ground here and there, but in order to stay upright walking through the mud on well-traveled paths. Where others had walked , there wa a deep layer of mud. A deep and slippery layer of mud.
I saw no blossoms, not even snowdrops.
I saw no green buds on trees (though the waxy red might have been beginning to show).
It didn't feel like spring. I was not working in the barn helping the ewes with their lambing. There could be no digging for planting outside. Though we may call it the beginning of spring, somehow, it is a spring that Parker Palmer describes as "ugly."
Still, it didn't feel like winter either. It wasn't "the bleak midwinter" with "water like a stone," as Christina Rosetti wrote. There were, indeed, the first tiny underground tendrils of spring. What had been sleeping was waking. Sap was moving, and snowdrops were beginning to push their impossibly muscular stems up toward the light. I just couldn't see them or feel them yet.
And so this season is also a season of Trust, or, if you will, Faith.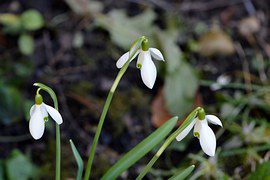 The Virtue of Trust
Faith has been described as belief in things not seen. Intellectual assent, it is sometimes called in the Roman Catholic tradition.
With respect to the tradition from which it comes, I say bollocks to that.
I say that faith has much more in common with trust. With something earned, something that we learn over time can be given reliably. Something that can be returned. Something that will bear fruit. Again, something we learn over time.
Light-but-not-heat. I trust that the heat will come, that the ground will thaw just enough to let the snowdrops, paperwhites, and narcissus show their sweet faces. Even in the places where the snow remains but the ground is slowly thawing, the snowdrops will push their way up, heralds for the other flowers to come.
Looking at the Evidence
Every year, spring has come. In this time of terrifying climate change, spring will come, though it may come too early and be too short before summer comes. Or it may come late with snow melting for months.
But it will come. I look at the evidence and believe, trust, that spring will come after this winter. I hope, but mostly I can trust. Earth has given me that.
Similarly, I learn to trust other human beings. It doesn't come easily to me to really  trust someone. Sometimes I have to look at the evidence. What is the evidence this person has given me? Have they betrayed me? Have they not kept a confidence? Have they made a pattern of not supporting me when I've needed them?
And so I ask again, will spring come? Will it perhaps come what seems too early? Likely. The evidence suggests as much. As Percy Bysshe Shelley wrote in one of my favorite poems, "If Winter comes / can Spring be far behind?"
Look at the evidence, trust the ugly days of mud and bleakness, and that the flowers, the stronger sun—the sun of light and warmth—will come again.