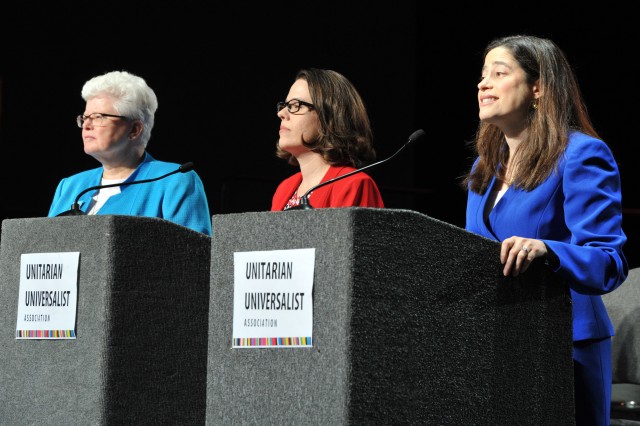 Perhaps the least quoted of the Seven Principles in Unitarian Universalism is the 5th Principle — "The right of conscience and the use of the democratic process within our congregations and in society at large."
Even if you're not a die-hard UU, you're probably familiar with the two most popular principles: respect for the interdependent web of existence (7th), and the inherent worth and dignity of every person (1st). And yet the 5th Principle is where the rubber meets the road: where we find a balance between the many and the one, the individual and the group. From the very beginning, UU has been dedicated to the work of empowering individuals to practice deep discernment and build consensus in community together. (Even the Seven Principles themselves were created and adopted democratically!)
Rev. Parisa Parsa writes about the power of the 5th Principle:
"In our religious lives, the democratic process requires trust in the development of each individual conscience—a belief that such development is possible for each of us, as well as a commitment to cultivate our own conscience. We could call it a commitment to the value of each person. […] My connection with the sacred is only as precious as my willingness to acknowledge the same connection in others."
As we enter a new year, in the wake of a contentious national election and an uncertain future, we're challenged again to reaffirm this commitment — not just as individuals in our own lives, but as members of the many overlapping and interwoven communities and organizations we belong to.
This year, UUs will have a chance to put this important principle into practice once again as we elect the next President of the UUA. At GA last June, three candidates introduced themselves and shared their vision and passion for the future of UU: Rev. Susan Frederick-Gray, Rev. Alison Miller, and Rev. Jeanne Pupke. Now, we invite you to send us your questions, curiosities and concerns — what would you like to ask these candidates about their vision for the future of Unitarian Universalism?
Our role
As Pagan and earth-relating members of the larger UU community, we have a unique perspective and a unique role to play in this process of community discernment and discovery. We'd like to hear from you: what concerns are most pressing that you would like the future UUA President to address? What issues are most important to you? What questions do you have for these three candidates?
In the coming months, the CUUPS Board will be convening a committee to compile and organize questions to submit to the UUA Presidential candidates, and share their responses with you as we approach this year's election. If you have a question you would like to submit, please email it to us at <membership@cuups.org> by March 1st, 2017.
Below, you'll find some examples of questions that have been asked in the past to help spark your imagination. For more information about the candidates, check out this article and video of the GA Presidential Forum, as well as these additional posts by and about the candidates.
~~~
Sample Questions:
• What will be your top priorities as president?
• How have your past experiences shaped your approach to issues of diversity and multiculturalism?
• What is the core of your personal faith? How does it help you lead?
• What are your ideas for creating a more vibrant and engaged youth and young adult presence within UU?
~~~
More Resources:
• "Presidential candidates present their visions for leading Unitarian Universalism"
• Presidential Candidates Forum, General Assembly 2016 video
• Essays by the Candidates:
– Miller: "Blood of UUs Courses Through My Veins"
– Frederick-Gray: "Sense of Mission Draws the Best Out of People"
– Pupke: "I Want Us On Fire"
• Candidates' Websites:
– Rev. Susan Frederick-Gray – http://susanfrederickgray.com/
– Rev. Alison Miller – http://www.alisonforuuapresident.org/
– Rev. Jeanne Pupke – http://www.jeannepupke.com/