What is the stress level like in your body at this moment? Take a few seconds to feel and assess your current physical and mental state.
Now, read the following words, slowly:
North Korea
White supremacists
President Trump
Syria
Global warming
Fake news
Russia
How's that blood pressure now?
Simply thinking about many of the current events in my nation and world makes my chest tight, my muscles tense, and my heart rate faster. It's a solid test of my autonomic (aka, "fight or flight") nervous system.
Add to these stressors a new title at work, the departure next week of my older son for his first year of college, as well as my younger son starting his senior year of high school. I'm sure everyone reading this article already has a lot on their plates without the world around them going completely haywire.
Preparations
So in the past few weeks I have redoubled my efforts to make myself more resilient to adverse or challenging life events. I'm taking the fourth class of a Positive Psychology certification program (which thankfully just happens to be about building resilience), I've doubled down on my daily meditation practice, I'm exercising more and eating more healthfully, I'm spending more time in nature and more time writing poetry about the seasons, I'm enjoying more of my favorite hobbies and spending more time with friends, I'm putting more emphasis and comfort into my seasonal rituals, and I'm creating a weekly safe space for myself through my Sunday technology sabbaths.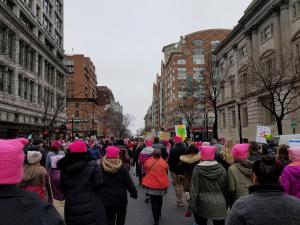 I was tempted to write this month's article about ways Paganism grounds us during difficult times. I wanted to discuss using the constancy of the sun and moon and seasons as a source of healing and a way to come to terms with ourselves and our place in the universe. And nature certainly offers all of these benefits, if we make time to enjoy them.
Unitarian Universalism and Paganism Joined thru Justice work
But as a UU and a strong supporter of our Social Justice initiatives and activities, I think it's more important to use this space as a call to action. A call for involvement. As Pagans, we can't just retreat into our circles and heal ourselves and send out wishes or spells for peace in our towns, countries, and planet. These are all wonderful and important activities, but in my opinion the entire point of these practices is to build up our own resilience so that we're prepared to act. Because only movement can stop the evil and intolerant deeds and words we're witnessing in our streets and social media feeds.
How can we as UU Pagans make a difference? Firstly, we should be active in the Social Justice programs at our UU congregations. As a former chairman of a UU Social Justice committee, I can tell you that most members in our church seemed to assume that we always had enough, or even more than enough, people and resources to carry on our critical work because Social Justice is such a cornerstone of UU principles. In reality, we never did. A handful of volunteers took on the vast majority of the work and predictably burned out in short order while others looked past our repeated requests for help. Don't expect others to stand up for justice. That responsibility falls on all of us. Many hands make light work. Or, at least lighter work with more productive results.
Find community organizations to get involved with. Since Trump's election, many grass-roots movements have taken off around the country. Find one that supports a cause you feel strongly about: anti-discrimination, women's rights, environmental protection, refugee support, scientific literacy, eradication of poverty. Then get involved. If your UU church is looking for more Social Justice projects, become the liaison between that community group and your congregation. An important part of working with and helping others is making connections between people whose programs need support and people who are looking for ways to become involved.
Speaking Up
Last, but certainly not least, speak up. If you witness someone making a racist or sexist statement, say something. Let them know you are not okay with their words. There's a possibility that others feel the same way you do and will back you up. But even if they don't that person may think twice before spouting hateful words again. In a dream world, they'll reexamine their opinions.
Say something. Do something. Light a candle against the encroaching darkness. Set aside some time each week to rejuvenate through your healing Pagan rituals. Then go out and do it all again, and again, and again. Because if we don't, what's the point of our rituals? And if we don't, who will?