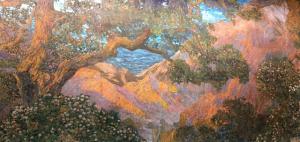 Today really felt like Spring. After weekly snowfalls all during March, two of them quite challenging with downed trees and major power outages, patients and nurses moving in with friends for the duration – suddenly today the sun came out, temperatures rose to 67 degrees F, I left my coat in the car before 11:00 and had to take my sweater off by 3:00.
My thoughts scatter like Autumn leaves, but new ones bud at once – just as if it was Spring in my thoughts, now, too.
Two new babies are expected in my family in the next few months. Their parents are excited and nervous by turns, just like the weather.
Birth Starts Our Journey Towards Death
A patient reminded me today that birth starts our journey toward death. All a very natural cycle. Just now the sky is a brilliant blue, the trees are in bud, the daffodils are blooming even with huge piles of snow right next to their beds. In the park, the joggers appear bare-headed after months of scarves and earmuffs. I know Winter will come back, of course, but not today. Death probably won't come for me today, either.
The Equinox a few days ago is another demonstration of balance – equal parts light and dark. Balance in all things, birth and death, snow and daffodils. Easter and Passover on the same weekend.
One of my favorite patients has begun telling me of complex, detailed dreams. Lately he's dreaming of attending a funeral where no one will speak to him or acknowledge him when he speaks. I wonder if he will experience his own funeral like that, but I don't say so.
Another patient sees occasional people in the room beside me, people that I don't see. He would like to get out of that bed and get back to reading, maybe finish writing his book, make another drawing of the city as seen from his window. I think Death is coming for him soonish, but perhaps we will have a few more visits yet.
How different my view of 90 is, now that I'm 71. I'm so aware of the need to accommodate to functional losses and declining capacity. I might not know when to quit until I've waited too long, as some of my patients say.
But it's Springtime.
In the Spring a young man's fancy turns … to motorcycles.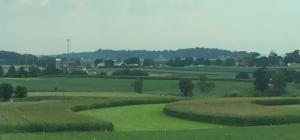 I have a patient, 70-something and nearly bedbound, who gave up motorcycle riding just a year ago. He misses his bike terribly. For 50 years he could let the wind in his hair blow his troubles away, but now he sits in those troubles and stews. I honor his loss, and listen to his grief, and try to think of something that would have the same effect – but of course there is nothing. Now that the weather has finally turned, he looks out the window and listens for a neighbor's bike, grieving.
Soon it will be sailing weather. I miss the sloop we used to keep in the Navesink River where I first learned to sail. I think about picnics and flowers, and the woods where I used to walk. I wonder, too, how many more Springs I will see.
My thoughts scatter like the leaves of autumn, but new ones are budding just the same. May you enjoy this burgeoning liveliness fully.
Blessed Be
–Maggie Beaumont, Ostara 2018