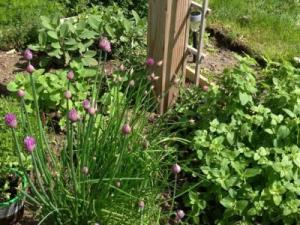 As I look out my office window across the yard I see tiny sprouts of green finally poking through the ground inspire of tiny bits of snow scattered here and there. The rhubarb, tulips, daffodils, crocus, garlic and onion are multiple shades of green with hints of reds and pinks in them. The pussy willow is busting into large tuffs and the lilac and forsythia have budded. The smell of the dirt in the air tickles the senses and putting my hands in the dirt of the garden heightens the feelings of anticipation that planting the garden brings. Time to clean up, and plant new life, even if the snowflakes still are teasing us.
Gardens and greenery reminds me of what is strong and healthy. For the past 12 weeks, I have been engaged in looking at what health, not just for me personally, but for the groups and organizations which I am involved in. Each are at different stages of growth and feeling the stretch of going to new levels. At home, it is time to clean closets, start some downsizing, and donate things no longer needed. In my office throwing out old files, software books, and old technology is always fun.
With Beltaine around the corner, I am also awake to the energies and intentions we weave into our lives and communities. Whether one is dancing the Maypole slow and steady, rapidly, on grass, or in the mud, I am reminded that of the kind of action is takes to care and nurture our dreams, and the kind of world we wish for. I watch the generations of people grabbing ribbons. Parents dancing with babes in arms. Children giggling trying to hold on the ribbons as they get shorter and shorter. Elders tapping and clapping hands to the beats of the drum or music. Announcements while touching the woven pole of transitions, transformations, and growth of those willing to share. It is truly a time of community laughing and in action together, projecting intentions in to the Universe.
I find myself working to bring this energy and aliveness into my role as president of CUUPS. The metaphors of gardening seem to be in play as the board begins to take on projects to support members, chapters and ministers in our congregations supporting Pagan/Earth/Nature Centered thinking. Where do we clean things up, and create new ways of operation and things to serve the denomination in learning about traditions and practices of the Earth.
There are several places to get to work and each board member has set some goals. These will open up opportunities for our members to participate more in the larger organization and create a more collaborative spirit. Like the seeds, I bought to plant in my garden, these goals will produce some concrete things to feed minds and spirits that hunger for more information. Each group will work together to create the needed items.
Membership is developing materials for UU Pagan/Earth/Nature centered inmates, new forms for members and chapter to register online with more ease. Chapters will hear personally from our membership person.
Our Ministerial Liaison will be touching base with ministers in congregations where CUUPS has a chapter to offer support. There will also be a conscious effort to support chapters in learning about many traditions of the earth to educate ourselves and also to broaden our perspectives. We will also be confronting the racial barriers in Paganism as well as issues of cultural appropriation in our rituals.
Curriculum and Liturgy group is putting together tools and samples of rituals for congregations to lead or new chapters can learn from. Revisions to the book list, and book group possibilities for chapters to lead with their congregations.
Our Events team will be looking at things to create great GA events and booth along with taking a good look at how best to create convocations that are more regional in nature.
Communications will be working on a mobile website that ties to the larger website. This will require updates to the website. Adding new forms for members and chapter to register online with more ease, expanded information from all of the committee groups and more colorful.
There is an energy growing again after a long Winter season. We would love to invite you to come work with us one any of these teams. It is time to weave the work of CUUPS into a beautiful tapestry of people coming together. Let us know your ideas, your needs, your wishes. Then we can begin to expand, just like the garden does each year. How beautiful that garden will be!