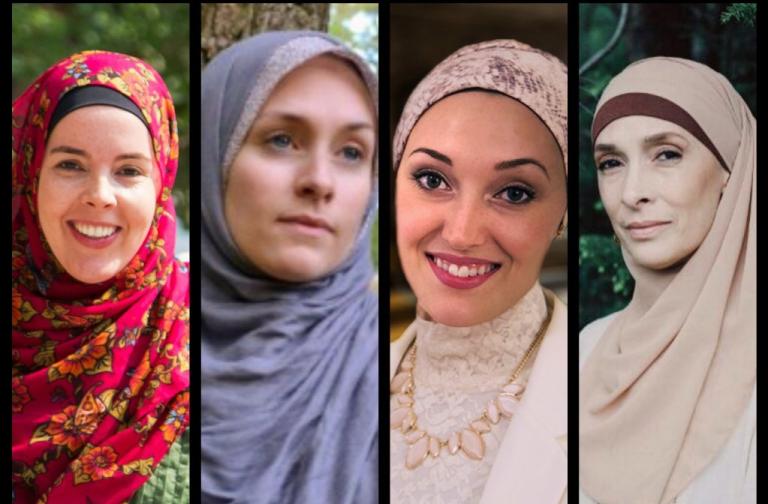 By Layla Abdullah-Poulos
White Muslim women are a growing demographic in American Muslim culture. They come from a variety of backgrounds and encounter issues specific to intersections of religion, race and gender. White American Muslim women frequently marry within their faith but outside of their race, which necessitates the need to develop cultural competency about their marginalized coreligionists. White American Muslim women also find it necessary to hone a keen awareness of how their socio-political placement as privileged Whites in America affects the ways in which they navigate Muslim spaces, wherein they may be simultaneously fetishized and alienated.
My work in shedding a lens on the multifaceted cultural identities comprising NbA Muslim culture increased my appreciation of the unique challenges White Muslim women encounter. Many White Muslim women must resist the complete disintegration of their cultural identity and absorption into a hegemonic Muslim ideal type engendering MESA cultural artifacts while fulfilling demands of non-Muslim family and friends to maintain cultural connections.
White Muslim women have opportunities to serve as social diplomats constructing bridges between Muslims and the dominant White non-Muslim society, functional allies rooting out racism in Muslim communities and the country as well as advocates with their Muslims sisters in combatting gender oppressions. The American Ummah is strengthened by women with the hardiness and wherewithal to utilize their faith and fortitude to create safer spaces and improve human relationships.
The White Muslim women featured strengthen the American Ummah by women by using their faith and courage to create safer spaces and improve human relationships. For me, they also demonstrate a rare quality of exploring beyond their limited social spheres and efficiently engage in constructive conversations about race.
Christina Tasca
Christina Tasca holds a Master's degree in Global Politics from the Royal Holloway, University of London and a certificate from New York University in fundraising, philanthropy and nonprofit management. Her passion is building the capacity of faith-based and community organizations working to address society's most salient social justice issues by developing systems, strategies, and the internal infrastructure to maximize their impact.
Tasca brings with her a long-standing dedication to social justice work and advocacy for marginalized voices to her role as Executive Director of the Muslim Community Network. Her experience includes a range of initiatives with non-profits and non-governmental organizations on human rights and faith- rooted social service with a particular focus on youth and women's empowerment.
Her interest in interfaith collaboration and dialogue has inspired a passion for promoting greater understanding beyond lines of difference and her experience working at home and abroad with government officials, activists, academics, and religious and community leaders, make her aptly suited to connecting people from many walks of life to work together toward positive social change. While still an undergraduate, she was a Human Rights Defender with the Guatemalan Human Rights Commission investigating the genocide of indigenous peoples and endemic violence against women. Most recently, she traveled to Pakistan with the U.S. – Pakistan Interreligious Consortium (UPIC) working with religious and civil society leaders to build interpersonal relationships across national borders, shatter stereotypes, and reduce tensions between the two countries. Previously she worked with the Arigatou International in coordinating the World Day of Prayer and Action for Children on an array of peace and ethics education programs and other activities to end violence against children on Universal Children's Day and year round.
Tasca is a member of numerous faith- based social justice and peacebuilding organizations including the Sisterhood of Salaam Shalom, and she currently sits on the advisory board of the Muslim Anti-Racism Collaborative (MuslimARC). In 2016 she received a Citation from the New York State Assembly for Outstanding Citizenship and a Certificate of Recognition for Outstanding Leadership and Service to the Community from New York City Public Advocate Leticia James.
Christina comfortably interacts with her fellow Muslims when engaging in constructive conversations about race. Challenges in generating positive racial dialogue between Blacks and Whites in our racial society also exists in Muslim communities. Consequently, there are multiple instances of racial microaggressions and bias. Christina has shown that she is not skittish about rolling up her figurative sleeves and doing some heavy lifting.
Visit Tasca's:
Jerusha T. Lamptey
Dr. Jerusha T. Lamptey is a Muslima theologian, scholar, and public educator. She is Assistant Professor of Islam and Ministry and Director of the Islam, Social Justice and Interreligious Engagement Program (ISJIE) at Union Theological Seminary in the City of New York. Her work and writing focus on Islamic feminism, interreligious engagement, religious pluralism, and social justice.
She has a Ph.D. and M.A. in Theological and Religious Studies with a focus on Religious Pluralism from Georgetown University; an M.A. in Islamic Sciences at the Graduate School of Islamic and Social Sciences; and a B.A. in Anthropology and Religion from American University.
Lamptey authored Never Wholly Other: A Muslima Theology of Religious Pluralism, which re-interprets the Qur'anic discourse on religious 'otherness' and diversity. She is currently working on a new book (titled Divine Words, Female Voices: Muslima Explorations in Comparative Feminist Theology), which explores the possibilities of comparative feminist theology.
Visit Lamptey's:
Twitter –

@jerushatanner

Facebook – https://www.facebook.com/jerushatanner/
Sahar Abdulaziz
Sahar Abdulaziz, originally from New York, moved to the Poconos in 1993 with her growing family. In 1988, she earned her Bachelor's degree in psychology from The College of New Rochelle. In 1995, she received a Certificate in Sexual Assault and Domestic Violence Crisis Intervention Counseling and shortly after, in 1996 as a Domestic Violence/Sexual Assault Counselor/Advocate. In 1997, she received a certificate from PCADV and volunteered for many years as a hotline worker and counselor/advocate. In 2003, she co-facilitated a domestic violence/sexual assault group, Un Lugar Seguro. There she provided direct client contact, and counseled within individual and group settings with victims culturally or geographically isolated. In 2003, she returned to college earning a Master's of Science degree in Health and Wellness Promotion and Administration, as well as a certification in Community Health Administration and Wellness Promotion.
Abdulaziz authored five books, –But You LOOK Just Fine, As One Door Closes, The Broken Half, and Secrets That Find Us. Abdulaziz uses fiction to cover a wide-range of hard-hitting topics and advocate for the underrepresented, the disenfranchised and maligned. Her multidimensional characters have been described as having "substance and soul," while demonstrating that those who have suffered abuse are not victims, but survivors.
Her book The Broken Half, which addresses domestic violence in Muslim communities, was listed as a Nba Muslims topic Muslim reads of 2015. Abdulaziz expressed the importance of her work to NbA Muslims during an Author's Speak online interview:
"I started this writing journey towards authorship to make change, and I felt the best method for me to make change was through the written word."
Visit Abdulaziz's:
Blog – https://www.saharraziz.com/
Twitter –

@Sahar_Author

Facebook – https://www.facebook.com/AuthorSaharAbdulaziz/
Danielle LoDuca
Danielle LoDuca is a third generation American of European descent. She was raised in a Catholic family, but considered herself agnostic and disdainful of religion until she converted to Islam in 2002. Danielle now blogs about Islam and how it relates to American culture and values, using her own experience as well as authentic sources in order to familiarize Americans with the truth about what she calls, "the most misunderstood way of life", Islam.
Through more than a decade of studying and practicing Islam while interacting with both the Muslim and non-Muslim communities as a white Muslim, she realized that many people tended to conflate being Muslim with being foreign. Her experience and knowledge of Islam however, proved that Islam is not only compatible with her American culture, but that Islam has much in common with the best of American values.
In order to dispel stereotypes and misconceptions about Islam, she decided to write about Islam and living it in the USA, through her own eyes. On her blog "The Muslim Next Door: Discover The Familiarity Of Islam", her primary objectives are to remove the sense that Islam is foreign, or only for people from certain ethnic backgrounds as well as to eliminate the fear and discomfort many people have when they hear about Islam or see a Muslim.
She invites the reader into her life, her home and her family for an intimate peek into the life of 'Your American Muslim Neighbor'. She has covered many topics to date, including the Muslim woman's form of dress, violence and media representation of Islam, as well as explanations of basic practices and acts of worship.
She also writes a blog entitled "Turning Muslim: How I Found Satisfaction In Islam" which is more personal and direct. It includes her own story of how she found Islam and chose it as her way of life, in addition to more uncensored thoughts about Islam and the purpose of life.
Visit LoDuca's: