"A new commandment I give to you, that you love one another, even as I have loved you, that you also love one another." – John 13:34 (NASB) "What does God expect from us?" series.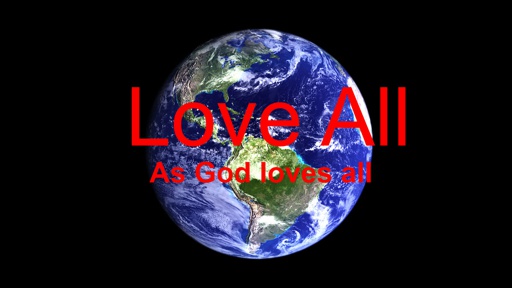 What did Jesus mean: Love one another?
Not to put too fine a point on it, but in the Greek version of the Bible there are four types of love mentioned:
Storge – empathy bond. Affection. Family love.
Philia – friend bond. Also brotherly love.
Eros – romantic love.
Agape – love, benevolence, good will, esteem. (Strong's Greek Lexicon definition)
When Jesus mentions agape love he isn't talking about just having empathy for others. He isn't talking about just being friends or brothers. He isn't talking about romantic love. He isn't talking about feelings at all.
In general benevolence and good will are more to the point. Followers of Christ generally believe this involves a willingness to sacrifice for the good of others as the best description. Some translations of the Bible even use the word "charity" in place of agape love.
The foundation of all love, regardless of type, I believe is agape. It's the love that bonds family, friends, and certainly those in marriage. The English translation of the Bible uses only one word for all of these: love.
You often hear about true friends and false friends. False friends are the first to abandon you at the first sign of difficulty. They are the ones who only receive and can't give.
Jesus summed it up in this way: ""In everything, therefore, treat people the same way you want them to treat you, for this is the Law and the Prophets." – Matthew 7:12 (NASB)
Love never fails – Apostle Paul
The Apostle Paul summed it up in a longer way, as love being more important than anything:
"If I speak with the tongues of men and of angels, but do not have love, I have become a noisy gong or a clanging cymbal. If I have the gift of prophecy, and know all mysteries and all knowledge; and if I have all faith, so as to remove mountains, but do not have love, I am nothing. And if I give all my possessions to feed the poor, and if I surrender my body [a]to be burned, but do not have love, it profits me nothing.
Love is patient, love is kind and is not jealous; love does not brag and is not arrogant, does not act unbecomingly; it does not seek its own, is not provoked, does not take into account a wrong suffered, does not rejoice in unrighteousness, but rejoices with the truth; bears all things, believes all things, hopes all things, endures all things.  Love never fails;  …." – 1 Corinthians 13: 1-6 (NASB)
While we have faith in following Jesus as a means to improving ourselves and meriting salvation in the Kingdom of God (here now and forever), love is most important, more important than that faith, in that it shows we have actually become people who love others.
Love is not restricted to just people we like
So often I have run into people who think that they can restrict love to just those people who they decide merits love. It might be the person in the pew next to them – someone who goes to their church. It might be just people in the community who are Christians like them. It might be just the community. Helping those who aren't Christian seems beyond belief. Not for Jesus.
The Ancient Jews had adopted the practice of ostracizing all who weren't Jews – they felt it wrong (unlawful) to even eat or socialize with them.
Jesus addressed this in the parable of the Good Samaritan. Jews hated the Samaritans even though they believed in the same Pentateuch (first five books of the Bible regarded as the "Law"). In the parable in Luke 10:25-37, a traveler, probably Jewish, lay naked alongside the road, having been beaten by robbers. Both a Jewish priest and a Jewish Levite passed by and ignored the man. A Samaritan saw the man and bound his wounds, fed him, took him to an inn and stayed with him, then paid the innkeeper to continue to tend to him.
Jesus asked them which of the three men who saw the beaten man acted as a neighbor.  The expert on Jewish law said the Samaritan. Jesus said to him to go and do likewise.
Jesus said to others, "But I say to you, love your enemies and pray for those who persecute you, so that you may be sons of your Father who is in heaven; for He causes His sun to rise on the evil and the good, and sends rain on the righteous and the unrighteous." – Matthew 5:44-45 (NASB)
Takeaway
The idea of loving others is not just an idea or a suggestion. It is the underpinning of the Christian faith and an important element (maybe most important) in most other religions. Showing love for all others is the main mark of a Christian (as a true follower of Jesus).
Love like God. Love like Jesus. Love like Paul.
Series Links
God has no needs that we can fulfill
The Prophets: God wants us to take care of others
________________________
The standard of belief and conduct for Christianity is love. Legal standard.
________________________
If you find these articles intriguing, please consider joining the mailing list.
If I've challenged your thinking, I've done my job.
___________________
Our answer is God. God's answer is us. Together we make the world better.
– Dorian