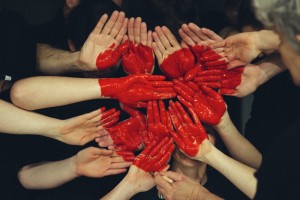 Yesterday I started a three-week sermon series on relationships, and at the top I addressed some pushback I would give if I was sitting in the congregation, "Why is talking about relationships important? Shouldn't we be talking about something deeper like the glory of God or missions?" Here are four reasons why talking about something 'superficial' like relationships:
1. Talking about relationships is scriptural. The text we walked through was Romans 14:1-6, where Paul commanded the early church to accept those whose faith was weak without quarreling over disputable matters. Romans 14 is right alongside Romans 8 and Romans 12, bound together in the crown jewel of Paul's writings. If Paul didn't think relationships was a worthwhile topic, he wouldn't have spoken on it.
2. Broken relationships grieve the heart of God. Think about it this way: if you've got kids, perhaps adult kids, you want the best for them. You want them to be smart, to make money, to do well for themselves. But just as importantly, you want them to get along. How much would it break your heart if your kids couldn't stand the sight of each other or be in the same room together because there was so much anger and bitterness? Well, when Paul writes to the church at Ephesus in the first century, he reminds them of this truth. Here's what he says:
29 Do not let any unwholesome talk come out of your mouths, but only what is helpful for building others up according to their needs, that it may benefit those who listen. 30 And do not grieve the Holy Spirit of God, with whom you were sealed for the day of redemption. Ephesians 4:29-30
When we don't get along, we break God's heart, because we're all created in His image. We have a Heavenly Father who wants us to live in unity. It's important to our Heavenly Father that we get along.
3. Broken relationships affect your families. How many readers grew up in homes where you wished your parents would have figured out some basic relationship principles? Would that have saved their marriage? Would that have improved your childhood? As superficial as talking about relationships might be, when we don't get relationships right, it destroys families.
4. Broken relationships cripples the church. If we have broken and dysfunctional relationships at church, it will kill our unity and destroy our effectiveness. If we don't learn how to relate to one another in a biblical way, then we've got no shot at fulfilling the mission God has given us to do: to make disciples of all nations.
So preacher, preach about relationships. It's biblical and it's important.
You can catch all of my archived sermons at www.mtvchurch.tv