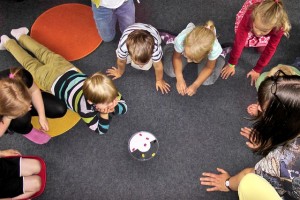 Yep, let's go there. Another summer is over, but don't just automatically move every program and event over to the 2017 summer calendar without doing some critical evaluating. One of the biggest staples of a church's summer calendar has to be VBS, otherwise known as Vacation Bible School. Started in the late 1800s, this annual program has become a lynch pin for the typical American church. But is it effective? Is it reaching the intended results? Is it working? The answer to those questions could shake up not just your summer calendar but your children's ministry as well. More than simply being a contrarian, the church I pastor decided to transition away from VBS a few years ago, and we haven't looked back since. Here are 5 reasons you may want to consider for killing VBS in your church:
1.
Vacation Babysitting Service
. I always heard parents joke that VBS actually stood for "Vacation Babysitting Service," but I didn't fully realize the truth of that until I had kids of my own. Because so many churches offer VBS throughout the summer, it's very possible to leverage VBS purely as summer childcare. But aren't the kids getting exposed to the gospel? Obviously, yes they are. But the question is: is VBS the most effective way to reach children? The next two reasons will help answer that.