Even a light read through the book of Acts reveals a church that's markedly different from many churches today. They were united, passionate, and they changed their world. And above all, they were bold. You see that word time and time again when you read their story. So how can we as the church today begin to recover the boldness of the early church? Here are five steps: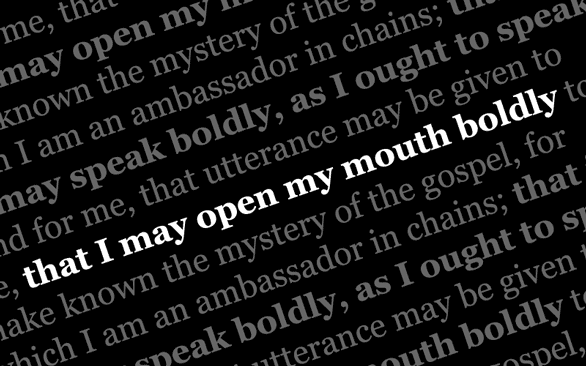 1. Put the resurrection in the forefront – The more we dwell and celebrate and meditate on the resurrection, the bolder we'll become. Think about it. The greatest thing that most people fear is death. Jesus conquered death. Jesus has conquered our greatest fears, and his Spirit is now inside of us. What do we have to be afraid of? Seriously? What do we have to be afraid of?
2. Focus on God's power, not our problems – When the disciples prayed for boldness in Acts 4, they didn't start by complaining about their problems. They focused on God's power. They reminded themselves just who was on the throne of the universe. They were threatened by men, but they served the Sovereign Lord who made the heavens and the earth and the sea. They had the trump card. When you pray, don't focus so much on your problems as you focus on God's power.
3. Embrace the Holy Spirit.
As uncomfortable as it might be with your religious upbringing, everything we see happen in the book of Acts happened because the Holy Spirit fueled it. He's the power behind the church. Behind every mention of boldness in the book of Acts you see the Holy Spirit. Until we're ready to put up our sails and adjust our sails to the moving wind of the Holy Spirit, we're not going to go anywhere.
4. Pray big prayers. The early church not only prayed, they prayed big prayers. We never see the early church praying, "God, please bless the food, keep us safe, help me get that promotion, help my kids be good kids." They prayed big prayers. Prayers much bigger than them. When we start praying prayers bigger then us, we'll start seeing God doing bigger things than us.
5. Give sacrificially. All of the descriptions of the early church included how they gave sacrificially to others as they had need. You know and I know that anyone can talk a big game, but what's the saying? "Put your money where your mouth is?" If someone is bold enough to trust God with their money, they're bold enough to start changing their world.