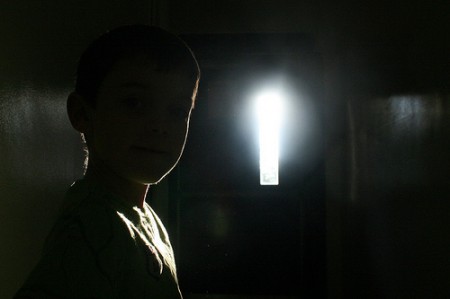 Yesterday I shared about a recent conversation I had with a woman where I had the opportunity to practice what I preach in the most uncomfortable fashion. While sharing the good news of grace and forgiveness from John 8 (the story of the woman caught in adultery), Leslie* asked if she could ever be forgiven because she was a lesbian and didn't want to change.
The easiest thing to do would have been to give into the temptation that too many evangelicals fall into: sweeping judgment and condemnation. But I had literally just shared about how Jesus offered grace to a woman caught up in sin. Was the sin of homosexuality outside the bounds of God's grace? What's more, I knew Leslie. I liked Leslie. We had built a relationship. She wasn't an abstract idea I was judging from a safe distance. She was a human being, filled with inherent worth, sitting five feet from me. It's easy to judge someone you don't know and condemn a community with whom you have no relationship. But what if it's someone you know and care for? (And let me beat some of you to the punch. You might counter, "But Leslie is unrepentant! She has to repent of her godless lifestyle before she can be forgiven!" Look in John 8. We have no biblical record of the adulterous woman repenting or showing any remorse. Lack of repentance isn't a good rationale for judgment and condemnation.)
Here's how I responded to her and the entire group of ladies I was sharing with that day:
I acknowledged the reality that homosexuality is seen as the 'unforgivable sin' in churches today. They already know that and sense that. Leslie shared that her church friends communicated that to her, so there was no use in me denying it. I apologized on the church's behalf for elevating that one sin above all others when we have no biblical right to do so.

I reaffirmed that the Bible teaches that homosexuality is sinful. There is no way around it. To teach otherwise would be to try and do theological gymnastics around passages that teach on this subject pretty clearly.
I also acknowledged that my job as a preacher wasn't to teach what was popular or culturally acceptable, but to be faithful to the Bible. I realize that the biblical teaching on homosexuality is increasingly unpopular today. I know that this will be one of the defining battlegrounds for the church in my generation. But my call was never to be popular. My call was to preach God's Word.
Should the Bible be modified as civilization progresses and we become more 'tolerant?' I don't dare make the prideful assumption that I know more than God. Some churches have embraced the homosexual lifestyle by cutting and pasting around sections of the Bible they don't agree with. As uncomfortable and unpopular as the Bible's teachings may be at times, I dare not assume that I know more than God. That is a slippery slope that never ends well.
I told Leslie that as a practicing homosexual, I would treat her like all the other sinners that show up at my church each week. In my eyes, she would be just like the liars, cheaters, gossipers and adulterers that fill the church each week. She would be like every other person sitting in that sanctuary: a sinner in need of forgiveness. I would love her and befriend her and value her like I value everyone else that comes to my church. Homosexuality is a sin, but it's not the 'unforgivable sin.'

What I really tried to do was to get Leslie to look at how Jesus interacted with sinners in the gospels. He took a strong stand for truth and didn't back down to popular demands, yet at the same time sinners loved hanging around him. That is the balance we all need to embody: grace and truth.
I told her I hoped that she would consider Mt Vernon a safe place to explore her faith. I do not believe she is a Christian. I told her that for me, her homosexual lifestyle wasn't my primary concern. I want her to give her life to Jesus. Once she does that, the Holy Spirit can begin to change her from the inside out. My job as a pastor isn't to 'cure' her of her homosexuality. It's to introduce her to Jesus.
It wasn't the easiest conversation, but I tried my hardest to speak to her how I believe Jesus would have spoken to her. I didn't condone her sin, yet at the same time I didn't condemn her.
QUESTION: How would you have answered her?