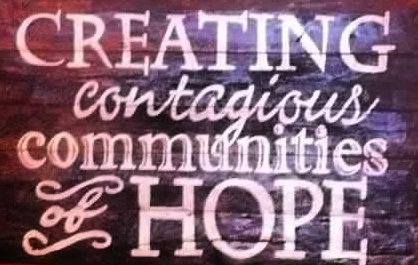 Yesterday at Mt Vernon we unveiled a phrase (some might say purpose statement) that will guide us in the months and years to come: Creating Contagious Communities of Hope. That's what we're about at Mt Vernon. That's what drives us, shapes us, and forms our DNA. Let me break down the meaning behind each word:
Creating – Creating is all about intentionality. We believe we live in a fallen and sinful world, one that is irrevocably broken. To simply sit idly by while the world self-destructs would be abdicating our God-given command to be salt and light. So, we create. We intentionally step into the mess, to form light out of darkness, to offer hope in the despair.
Creating Communities – We intentionally create communities because we were created for community: first with our Heavenly Father and then with each other. One of the casualties of modern technology is the erosion of community. Families are breaking apart, individuals are increasingly isolated. We desperately need community, which is why Mt Vernon is so intentional about creating community.
Creating Contagious Communities – We're never content to draw the circle around ourselves and say, "this is enough." We're always looking outward to friends and families, coworkers and classmates who need the hope of the gospel. We do so not because we're concerned about numbers but because we're concerned about people, because all people are incredibly precious to God.
Creating Contagious Communities of Hope – Everything ultimately rests on the hope of the gospel. Our hope is built on nothing less than Jesus' blood and righteousness. Hope is the most valuable commodity in the world today. How many people today are living without hope? How many have relational issues they can't solve, financial worries they can't break free from? How many wander through life, desperately seeking any type of purpose? We create contagious communities of hope that offer the hope and transformation of the gospel.