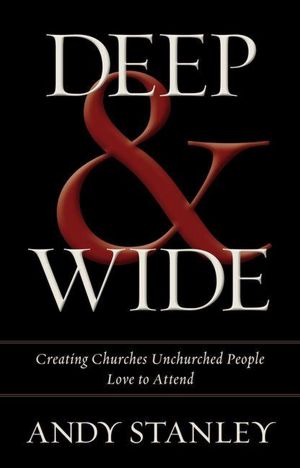 While Deep & Wide most likely won't be the last book that Andy Stanley writes, it will most certainly be his coup de grace, his apex. His other books have looked at individual topics such as leadership, finances and grace. Deep & Wide looks at the big picture behind North Point Community Church and the philosophy that drove North Point to create a church model that has inspired thousands of pastors (like me). In other books and talks Stanley has explained his approach to ministry, but here it's all in one spot; his secret sauce, for all the world to see.
Stanley starts off with a bang as he recounts the inglorious history behind the start of North Point, including a church split and the high profile divorce of his parents, Dr. Charles and Anna Stanley. While most church planters would love to see 1500 people show up at their pre-launch informational meeting, Andy Stanley went through incredible heartache to get there. One of the neatest things as a pastor is to see how Andy's relationship with his father has been restored and strengthened over the past several years.
After being transparent about the not-so-glorious circumstances behind North Point, Stanley dives into their philosophy, coined in the subtitle of the book: "creating churches that unchurched people love to attend." First Stanley spends three chapters looking at the example of Jesus and the early church, building a case of how the church operated in the beginning, contrasting that with the stereotypical church of today. To sum up the early church, he writes that they were believers who "walked towards the messes."
Stanley then spends the next two sections talking about discipleship and evangelism (deep and wide). Of incredible value is his look at spiritual formation. Rejecting the commonly held notion that equates spiritual growth with more Bible knowledge, Stanley holds to five faith catalysts responsible for spiritual growth. His five catalysts are: practical teaching, private disciplines, personal ministry, providential relationships, and pivotal circumstances. Traditional church leaders might reject his observations, but I find great worth in them. Most folks who have been in church long enough realize the futility of equating spiritual growth solely with more Bible knowledge. The only biblical example that equates with that style is not one we want to emulate: the Pharisees. While these five faith catalysts can't be forced or programmed, priority can be given on creating environments where these catalysts can happen more often.
Perhaps the most challenging section of the book was section four: Going Wide. It's his challenge to church leaders to reach out to the lost and unchurched of the world. What makes this section so challenging is that he's able to quickly pierce through the façade of many churches that 'say' they want to reach the lost, yet aren't willing to make the hard changes to see lost people come to their church. The subtitle of his book is "creating churches unchurched people love to attend." This is where he lays out the meat and gives specific how-to's for churches serious about this.
He talks about three essential ingredients to irresistible environments: Is the setting appealing? Is the presentation engaging? Is the content helpful? He talks about the importance of defining 'wins' for all of your environments and shares the template they use for their weekend services.
As a preacher, the most convicting chapter was chapter eleven on "Double-Barrel Preaching." He talks to speakers about how their approach to communication will affect their style of preaching. He challenges decades old assumptions and asks penetrating questions that caused me to rethink some of the ways I prepared my sermons. He finishes the book with words of wisdom on how to transition an existing church to embrace this philosophy that truly embraces outsiders.
Probably the only downside of the book is that there's so much practical content that pastors may feel overwhelmed with where to start. But nevertheless, it's an incredible book that should lead to great conversations among church leaders.
LESSONS LEARNED
1. There's a huge difference between saying that your church wants to reach the lost and actually being a church that reaches the lost. Too many churches preach salvation messages to churches full of saved people. They orient their entire programming and philosophy around retaining churched people, then wonder why no unchurched people show up.
2. Environments matter. One of the problems many churches face is older and traditional buildings that are paid for but no longer fit the purpose and function of the modern church. How do you reach the unchurched when your buildings scream "CHURCH!" If your buildings look cluttered and unkempt, it sends an incredibly strong message to newcomers that you don't care about first impressions.
3. Make no apology about reaching the unchurched. At the end of the day, that's what the church is here to do. For too long church has been about preserving a culture and a set of values. As culture has changed, the unchurched have been left behind. While churches who genuinely attempt to reach the unchurched will suffer friendly fire from behind, they should not apologize for doing what the church was intended to do.
4. Be a part of a church that "walks towards the messes." I love this phrase as described by Stanley. While too many churches don't want to deal with the mess of interacting with a sinful society and allowing unchurched people to bring their messes into the church building, a true church is one that walks towards the messes. Christ didn't leave us in our filth; neither should we leave the unchurched in their filth. Yes it will be messy when the unchurched bring their baggage into the church. Yes it will probably stain the carpet and break lots of procedures and policies. But that's what we're called to do. Make sure you're a part of a church that "walks towards the messes."
QUESTION: Has your life or ministry ever been impacted by Andy Stanley or North Point Church?