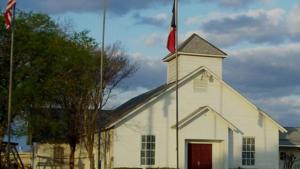 Yesterday we witnessed the deadliest church shooting in American history as a lone gunman walked into First Baptist Church of Sutherland Springs, Texas and opened fire. To date twenty-six people have died and many more are in the hospital. If you're connected to that church or community, you're only concerned is to grieve with loved ones and mourn those who have passed away. For those of us on the outside, we're left with a simpler yet bigger question: why?
Over the past twenty-four hours the massacre at FBC Sutherland Springs has already been turned into a referendum on gun control and both political parties. From a religious standpoint, I simply want to try and wrestle with it from a spiritual point of view. Why didn't God protect the people of Sutherland Springs? They were in church worshipping Him. If anyone should have gotten a little extra protection, don't you think it should have been them? Does this mean that God didn't know or didn't care or couldn't prevent the massacre? Not in the least. I believe this senseless tragedy reminds us of the utter brokenness of our world and the plan that God has that is much bigger than all of us.
If you look through the pages of Scripture you'll find that God's servants were not immune from the devastating effects of sin in the world. Speaking of the heroes of the Old Testament, here's what the author of Hebrews writes:
There were others who were tortured, refusing to be released so that they might gain an even better resurrection. Some faced jeers and flogging, and even chains and imprisonment. They were put to death by stoning; they were sawed in two; they were killed by the sword. They went about in sheepskins and goatskins, destitute, persecuted and mistreated— the world was not worthy of them. They wandered in deserts and mountains, living in caves and in holes in the ground.
These were all commended for their faith, yet none of them received what had been promised, since God had planned something better for us so that only together with us would they be made perfect. Hebrews 11:35-40
God's people have never been immune to the consequences of sin in this world. What can and should give Christians hope in all of this is that our kingdom is not of this world. If those worshippers at FBC Sutherland Springs were simply living for this world, then they are to be truly pitied. But the reason they were at church yesterday morning was because they believed in something greater than themselves. They believed in a place greater than this world and a purpose more important than even their own lives. They believed that Jesus came to die so that they could live eternally in heaven. They believed they would go to heaven when they died, though none expected it would be so soon.
We must mourn with those who mourn, because for every person that died there are dozens of loved ones grieving today. But why didn't God protect the people of FBC Sutherland Springs? That's a question that's too small to ask. God did protect the people (and all who believe), not from the immediate consequences of sin in this world, which in this case led to a mass shooting. God has offered protection from the ultimate consequences of sin, eternal damnation. The people inside that church were protected from the ultimate consequences, and now they're in a place where there is no more pain and no more tears and no more sin.
So grieve, rejoice, and be reminded of the eternal truths of this world. Sin has infected and corrupted every aspect of this world. That's why we need Jesus so badly.