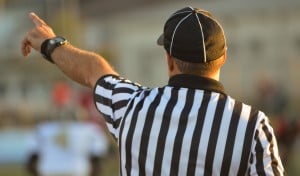 It's not quite an epidemic, but it's happened enough that it's officially become a 'thing': a running back or wide receiver who's broken away from the other team and is about to score a touchdown for his team. Because it's somehow uncool to actually carry the football into the end zone, the thing to do is to drop the ball immediately upon entering the end zone.
The tricky thing is that running at full speed, it's difficult to gauge exactly when to drop the ball and several players have dropped the ball at the 1-yard line. This past weekend it happened twice, in the Oklahoma vs Ohio State game and Texas vs Cal game. (Slate has collected 26 instances of this phenomenon in one location for your viewing pleasure). It simply baffles the mind that a player would intentionally drop the ball before they actually reach the goal for which they were carrying the ball. But it happens. It's an inexcusable, boneheaded, idiotic move, but it happens.
So how does this affect preachers? I would argue that preachers can make that same inexcusable, boneheaded, idiotic move every Sunday in the pulpit if we're not careful. Preachers drop the ball on the 1-yard line when we preach information without application. Both are absolutely necessary. As a preacher, you have to answer both "What does God want you to know?" and "What does God want you to do?" It's great that your church knows the proper dimensions of the tabernacle. Next time they're on Bible Jeopardy they'll win the jackpot. But what does that have to do with their everyday life? How does what you're preaching on Sunday impact their Monday? And don't leave that application completely up to them. You're the one carrying the ball. Take it all the way to the end zone. Give them application.
Here's the words of a famous preacher who stressed the importance of application, "Therefore everyone who hears these words of mine and puts them into practice is like a wise man who built his house on the rock" (Matthew 7:24).
Information without application becomes stagnation. Application brings the timeless truths of Scripture into the 21st century. As a preacher, you're paid to be that time traveler, to connect two worlds and point the way forward for your church. If you don't give your church practical application from what you're preaching, then you're dropping the ball at the 1-yard line. You can do better than that.