I knew it was an odd funeral when I asked the mourners halfway through, "Is everyone having a good time?" Funerals aren't supposed to be fun, but this one genuinely was. Every funeral has its own feel, from the overwhelmingly sorrowful to the pitiful afterthought. Rocky's funeral was fun; about as fun as a funeral can be for a preacher.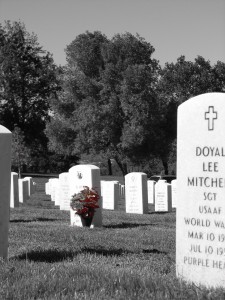 Rocky passed away in his sleep last recently at the age of 67. A former Marine, life-long gun enthusiast, dedicated father and husband and committed Christian, Rocky was literally larger than life. As typically happens, the stories come out after death, a way for the family to process the grief and loss. Rocky was a life of stories, and the funeral audience laughed and laughed as we remembered the best of Rocky. Because of his love of guns, his sister brought a pistol to the pulpit to honor her brother. As she shared stories, the pistol (unloaded she promised us) waved around in her right hand, unintentionally pointing at the preacher (me) several times sitting a few feet away, to the amusement of everyone present. After she finished she left the pistol on the edge of the pulpit where my hand would normally rest. I preached the funeral message with a pistol in my hand. I think Rocky would have loved it!
On the morning that Rocky passed, his family gathered together at the house in shock, processing what had just taken place when the UPS driver showed up at the door with a package for Rocky, something he'd ordered before his untimely death. What was this final gift from Rocky, literally coming from beyond the grave? A gag set of underwear, Rocky's final gift to his family. That's just the type of person Rocky was.
More than anything, we could laugh and take heart because we know where Rocky is: heaven. The Christian belief in the afterlife is one of the most appealing aspects of our faith, and it gives us courage to tackle even the greatest losses in life. Here's to you Rocky: see you soon.
Here's the funeral message I shared at Rocky Rockwell's memorial service:
In Ecclesiastes 1, the Bible says:
1 There is a time for everything,
and a season for every activity under the heavens:
2 a time to be born and a time to die,
a time to plant and a time to uproot,
3 a time to kill and a time to heal,
a time to tear down and a time to build,
4 a time to weep and a time to laugh,
a time to mourn and a time to dance. Ecclesiastes 3:1-4
We are here today to mourn the loss of Rocky, to bear witness to his passing, and to begin to process the grief that comes with losing a husband, a father, a brother, a friend. We're here to weep, but we're also here to laugh as we remember the good times, the times he made us laugh, the quirks that made Rocky Rocky. The pain and loss of a loved one is always real, always tangible, alway overwhelming, but as believers we have hope.
I don't assume that everyone in this room is a believer in Jesus, so let me explain just why believers, Dianne and her family, can be so hopeful in the midst of such pain and loss. Back in Jesus' life, one of Jesus' close friends, Lazarus, passed away suddenly. As Jesus was talking with Lazarus' sister Martha, helping her process this loss, he gives her an incredible promise.
21 "Lord," Martha said to Jesus, "if you had been here, my brother would not have died. 22 But I know that even now God will give you whatever you ask."
23 Jesus said to her, "Your brother will rise again."
24 Martha answered, "I know he will rise again in the resurrection at the last day."
25 Jesus said to her, "I am the resurrection and the life. The one who believes in me will live, even though they die; 26 and whoever lives by believing in me will never die. Do you believe this?" John 11:21-26
Martha believed in Jesus and saw her brother again. As believers we fully believe these words of Jesus, backed up by his own resurrection from the grave, and for us everything changes. Yes we mourn the loss of Rocky, but we don't despair. Why? Because we believe that life doesn't end at death. We don't simply cease to be, all of our existence suddenly disappearing like the morning fog. No, we believe that there is life after death, that everyone lives forever somewhere. Even though Rocky's earthly body is no more, his soul, the unique aspect of all of us that makes us us, lives forever. One day, at the last day, when Jesus comes back, Rocky will get a new body, a glorified body, a heavenly body.
Life here is temporary, painful, hard. It is full of sickness, loss, disease, heartache. But we believe that the next life, eternity, for those of us who believe in Jesus will be absolutely beautiful, painless, life itself. That's what gives us hope today: we can fear dying, but we don't have to fear death, because death is not the end. The thing that upsets us the most is that we feel sorry for Rocky, that somehow he's worse off. But he's not! He's experiencing true life for the first time.
Think about it this way: we believe that life begins at conception, and that a life within the womb of a mother is very much a life, but the child's life in utero is cramped, compressed, limited. We would say there's no real comparison between what we can experience and what life is like inside and outside the womb. Life begins at conception, but real life begins at birth.
I think that's the same difference between this life and the next. As great as we think this life is, and it is great at times, it's like we're still in the womb compared to what's waiting for us. Life here is cramped, compressed, infected with sin and greed and sickness and death.
Rocky is experiencing what real life is like. In fact, I would argue that Rocky is more alive than any of us in this room.
Rocky is with the father right now. The moment he breathed his last breath here he breathed his first breath in heaven. Rocky has no more sickness, no more pain. If there are motorcycles in heaven, Rocky's already been popping wheelies.
Rocky has his new glorified body, a body that will never get old or fall apart. Rocky is reunited with loved ones who have gone before. The apostle Peter seems like the kind of guy that would be into firearms so Rocky's probably already set up a firing range in heaven with him.
The reason we can rejoice as Christians today is because of the power of Jesus over death itself, we don't have to think of Rocky as gone forever. He's just not here right now. He's waiting for us at the next stop. If you believe in Jesus, you will see Rocky again. And because of that, we have hope.
When the apostle Paul was nearing the end of his life, here's what he wrote, describing his life as a race that he was about to finish:
6 For I am already being poured out like a drink offering, and the time for my departure is near. 7 I have fought the good fight, I have finished the race, I have kept the faith. 8 Now there is in store for me the crown of righteousness, which the Lord, the righteous Judge, will award to me on that day—and not only to me, but also to all who have longed for his appearing. 2 Timothy 4:6-8
Rocky fought the good fight, he kept the faith, he finished the race. This past Sunday he was in church like he always was, a smile on his face. He was the treasurer for his LifeGroup, actively involved in growing in his faith, even to the very last day of his life here. Rocky is an example of what it means to keep the faith. And now, with his race finished, he's passed the baton to us.
The book of Hebrews says this:
1 Therefore, since we are surrounded by such a great cloud of witnesses, let us throw off everything that hinders and the sin that so easily entangles. And let us run with perseverance the race marked out for us, 2 fixing our eyes on Jesus, the pioneer and perfecter of faith. Hebrews 12:1-2
Rocky is now a part of the great cloud of witnesses. He's passed the baton to us. While we're alive, while we still have breath in our lungs, we have a race to run. How will we run it?
How are you running it?
Have you thrown off everything that hinders or are you tied down by earthly things that are keeping you from the race God has for you?
Have you thrown off the sin that so easily entangles? Are you free to run the race God has for you, or are you stuck in the quicksand of sin, addictions, bad habits?
Are you running the race with perseverance? The race of faith isn't so much how you start as much as how you finish? How are you finishing?
Are you slowing down, taking your foot off the gas, coasting into eternity?
Or are you still hard at work, loving others, spreading the hope of Jesus, growing in your faith, passing on your faith to the next generation?
Are you keeping your eyes on Jesus? In the midst of holidays, a presidential election, football season, hunting season and every other distraction out there, are you keeping your eyes on Jesus and his mission to make disciples of all nations?
If you truly want to honor Rocky's memory, if you truly want to honor the God that Rocky served, fix your eyes on Jesus, throw off everything that hinders and the sin that so easily entangles, and run the race with perseverance. We don't know when our finish line, but if we're here we still have a race to run. When it's our turn, we'll see Jesus, and Rocky, waiting for us at the finish line. Take heart, Christian, and run your race.