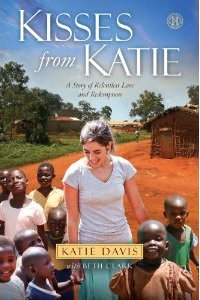 Kisses from Katie wrecked me. I knew a little bit of her story, so I thought I was prepared to hear her heart-wrenching story of life in a third-world country. I was wrong. If you have a soul inside of you, you cannot encounter stories of poor, neglected and abused children fending for themselves in Uganda and not have your heart ripped out a little bit.
Katie Davis is a 24-year-old who grew up in Brentwood, TN with a life typical of many Christian girls raised in America. Yet she willingly gave up her "good life" to sacrifice herself for the poor and the orphaned living in Jinja, Uganda. Here's a bit of her story in her own words:
"Slowly but surely I began to realize the truth: I had loved and admired and worshiped Jesus without doing what he said . . . So I quit my life. Originally, my quitting was to be temporary, lasting just one year before I went to college and returned to normal, American teenager life. But after that year, which I spent in Uganda, returning to 'normal' wasn't possible. I had seen what life was about and I could not pretend I didn't know. So I quit my life again, and for good this time . . . I have a joy and a peace that are unimaginable and can come only from a place better than this earth. I cannot fathom being happier. Jesus wrecked my life, shattered it to pieces, and put it back together more beautifully" (xviii).
This book is her story, her journey from her "normal" American upbringing to moving to Uganda, adopting thirteen precious daughters to raise as her own, and starting a non-profit that is bringing hope and healing to thousands of people. Never intended to be a professionally written narrative or deep theological treatise, Kisses from Katie captures the essence of her journey through story, vignettes of her life that show both the deepest hurts of the human experience and the deepest love of a gracious Heavenly Father.
Through her experiences with third-world disease, poverty, starvation and neglect, the veil of first-world ignorance will be forever ripped from your eyes. In a country (America) where suffering equals only having one fast-food restaurant to choose from, Katie's real-world experience in Uganda is a sucker punch to the gut. While we're busy keeping up with the latest elimination from American Idol, millions of precious children are simply fighting to stay alive. Here's how Katie describes her first conversation with one of her new daughters, five-year-old Joyce, "What struck me most about that first [conversation] with Joyce was what she said to me: 'Thank you for food, Mommy. Today I am still alive.' My heart stopped. This little girl, at five years old, is simply thankful to have something to eat so she can stay alive" (87).
Numerous stories like that will rip your heart out with compassion and compel you to do something with the excess that you've been blessed with. Through all of the trials that Katie has gone through, she continues to inspire with her unadulterated faith in God: "God teaches me, and Masese (a village she works in) teaches me, this: Resurrection is real. Life is more powerful than death. Light can pierce darkness. I may never see the end of horrendous situations on this earth, so instead of trying to fix the situations here and now, I will focus on helping these people come to heaven with me" (192).
Get this book. Let it inspire you to do something meaningful with your life. To keep up with Katie's work in real time, check out her blog
here
.
LESSONS LEARNED
1. Real Christianity is more than just church attendance and another Bible study. The end result of our faith is not another church service or more Bible knowledge. It's loving God with all our heart and loving our neighbor as ourselves. Katie Davis is a beautiful picture of what it means to live out your faith in its purest form. More than simply attend more church or read another Christian book, Katie decided to live out her faith. How uncommon, yet how life-changing.
2. If you want to touch God's heart, work with the poor and abused. If you look throughout the Old and New Testament, God continually shows his heart for the poor and oppressed. He constantly calls us as believers to show love to those he loves. If you want to work with those closest to God's heart, get out of the finely manicured suburbs and go work with the poor and neglected.
3. I'm thankful for those who sacrifice their resources to make a real difference in the world. Katie's non-profit ministry, Amazima Ministries, works to provide meals, education and many other needs for those who desperately need it. I'm also extremely thankful to be a sponsor for Children of Hope, a ministry helping Haitian refugee children living in the Dominican Republic get an education and a shot at life.
4. Everyone needs to go on an overseas mission trip. If you've never experienced life outside of the United States, then you live in a bubble. There is a tremendous world of need out there. There are millions of American Christians who can be the arms and feet of Jesus to a suffering world. But we'll never know what's out there until we go. Find a quality mission-sending organization and go overseas. It changed Katie's life. It changed my life. It will change your life.
5. I want to be a part of a church that meets the needs of the poor and hurting. Who are the lost, the oppressed, the hurting, the neglected in your town? What is your church doing to love them and share the hope of Christ with them?
6. If you never meet Katie Davis in this life, here's how you can find her in heaven: look for the really huge mansion up on the hill with the best view. Her rewards will be massive in heaven one day. She deserves it. Look for her on Mother Theresa's street.