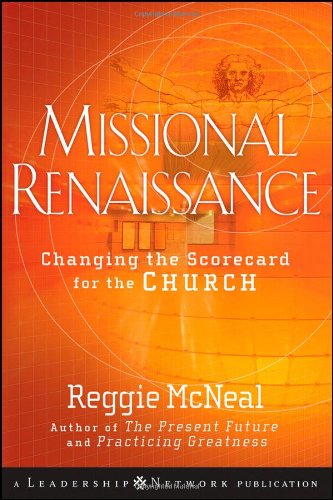 If you're looking for a solid left hook to the solar plexus, read Missional Renaissance by Reggie McNeal. His thoughts are piercing, unsettling, and full of truth. If you've ever thought that 'church as usual' wasn't working but you couldn't put it into words, McNeal will give you the words.
I've heard about the 'missional' movement for years but have resisted it, mostly because I could never quite figure out what 'missional' was. People would ask, "Is your church missional?", but they forgot to tell me what the code word 'missional' meant. It's as if I needed to join the club first before I could find out what I was joining. No thanks.
Reggie McNeal does a tremendous job putting flesh and bones on the whole idea of 'missional.' He defines it as "a way of living, not an affiliation or activity." It's not another program to add to your retinue. In fact, it's a reaction against the over-programming of the church. To become 'missional' you need to embrace three shifts in your thinking and in your behavior:
From internal to external in terms of ministry focus.

From program development to people development in terms of core activity.
From church-based to kingdom-based in terms of leadership agenda.
The rest of the book fleshes out this outline, giving great examples and ideas in each area. Perhaps the greatest asset of the book are the three chapters he gives under each section titled, "Changing the Ministry Scorecard." In these chapters he gets extremely practical. More than just throwing some great ideas at you and forcing you to handle the implementation alone, he gives the reader a clear picture of what a missional scorecard looks like.
McNeal challenges the very concept of church itself, stating "Missional followers of Jesus don't belong to a church. They are the church. Wherever they are, the church is present" (19). He does a good job looking back through history to see where our view of church became skewed from people to a building. Throughout the book, he challenges the idea of church merely being a religious vendor of services and goods. Rather, he aims to recapture the first century ethos of what the church is. What is the biblical ethos of the church? Not to be a religious destination for the already saved, but to be a catalyst of change to better the world. As McNeal puts it, "The role of the church is simply this: to bless the world. In doing this, the people of God reveal God's heart for the world" (46).
Embracing this mindset will force church members outside of the four walls of the building they refer to as church, which is exactly what McNeal intends. Many see this as an either/or against the attractional model of church. McNeal disputes that, stating "not all expressions of attractional church are bad. It's a mistake to think so–and an instance of either-or thinking. Even Jesus in his Incarnation was an attraction himself. The real issues is about DNA" (50).
For McNeal, the antithesis of a missional church is a program-driven church. When he spoke on this, my heart leapt, because I've worked at program-driven churches before. A program-driven church exists to keep the calendar full, to gather Christians together in a safe environment and allow them to exercise societal activities without the nuisance of unsaved pagans being around. As he aptly puts it, "The program-driven church has created an artificial environment divorced from the rhythms and realities of normal life" (93). The result? "In this way, the church effectively becomes a desalinization plant, sucking salt out of the community" (54). Ouch. Painful, but true.
How does the missional church differ from this mindset? "The missional church assumes that service to others is the first step, not some later expression of spirituality" (105). With that, he makes a hard push for churches to get outside and begin serving their community. All in all, a challenging read, but well worth it.
LESSONS LEARNED
1. What makes the book so uncomfortable to read is that he so bluntly and so accurately describes a majority of churches in my denomination. As a Southern Baptist, he knows the typical SBC church. His portrayal of it is dead on. Many know it (or at least feel it), but he takes it a step further and actually says it.
2. Something has to change in the current church culture. If we can't agree on that, we can't agree on anything. We are losing ground in our culture. We're losing the next generation. What we're doing isn't working. Missional Renaissance is a good place to start.
3. Deep & Wide and Missional Renaissance don't have to oppose each other. A previously reviewed book, Deep & Wide, speaks to issues of the church. While some may call Andy Stanley's Northpoint Church a purely attractional model, it would be a mistake to do so. Here's how I reconcile the two works: Missional Renaissance talks about a mindset shift for the church in general. Deep & Wide gives a great example of what a 'missional' weekend worship experience looks like. It's not enough just to serve in the community. When the lost come to church programs, they need to see a missional experience within the four walls of the church building as well. The two books complement each other.
4. When Helping Hurts is a great caveat to McNeal's push to get the church serving in the community. McNeal makes a strong push for the church to move from program-minded to service-minded. When Helping Hurts (another great book) helps churches serve others in a way that benefits them, not harm them.
5. While not using much of McNeal's terminology, Mt Vernon Church has been implementing many of his ideas for the past decade. We've made the transition from a program-heavy church. We've simplified our events, moving from an internal to external mindset. While we're not there, we see God's hand of blessing on the steps we've already taken.