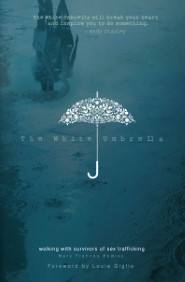 "As hard as I try, I can't forget that first night. I was seven years old. I'd put on my Princess Ariel pajamas and brushed my teeth. I'd climbed into bed with my white stuffed pony, the one I always slept with, the one my dad had given me two years before when my parents split up. I knew my mom wouldn't come to say good night because she was on a business trip. So it didn't surprise me with Brad, my stepdad, came to my room instead.
But I was surprised, and scared, when he turned off the light and crawled under the covers with me. 'Sheila, we're going to play a game,' he said. Only it wasn't a game." (21)
This true story began a cycle of sexual abuse for Sheila that haunted her until she ran away from home at the age of 12. Alone and scared on the street, she was befriended by a man named Michael who offered her protection and a place to stay. That place to stay ended up being a prison, as Michael drugged Sheila, forced her to service several men a night, and held her captive against her will for months until she finally escaped. This true story didn't happen in India or Thailand, but in Atlanta, GA.
The White Umbrella is the true stories of women saved from sex trafficking right here in America. Their stories will break your heart, and the courage of those called by God to help restore them will inspire you to do something greater with your life. Wellspring Living is a Christian-based recovery program offering housing, healing and hope for those who are victims of sexual abuse and sex trafficking. As much as we would try and ignore the problem, sex trafficking is a major problem in the United States.
"The FBI reports that in the United States, the number of children, usually girls, who are forced to do someone's sexual bidding is well over 100,000. The age range is nine to nineteen. The average age is just eleven years old" (15). For many of the girls, it's a result of the poverty and pain that they're born into and unable to break out of. And it's never consensual. Another true story the books tells is Debbie's, a fifteen-year-old from Phoenix who earned straight A's at school:
"One minute she was talking to a casual friend just outside her house. The next minute, the 'friend' and two men were pushing Debbie into a car, where she was bound and gagged. She was held captive for more than forty days and forced to have sex with several men daily until a tip led to her rescue" (15).
Once the girls escape, their lives are a broken remnant of their former selves. So incredibly scarred, many will never again live normal or healthy lives. The workers at Wellspring Living have dedicated their lives to helping restore the lives and hopes of women broken by sexual abuse and slavery. Their commitment and courage is absolutely inspiring. It's an incredible example of a group of Christians that run towards the mess of the world.
LESSONS LEARNED
1. As much as we might like to ignore it, our immediate world is filled with incredible injustices. It's easy to live in the suburbs and pretend that the world is happy and healthy. If lives are broken, it's in far off places like India where we could never hope to go. Yet some of the greatest injustices in the world are being done in our backyard, within driving distance of our homes. We cannot ignore it.
2. God calls Christians to rise up and do justice for those who need it. If you look in the Old Testament especially, God is constantly commanding his people to rise up and look after the orphans and widows, to defend those who couldn't defend themselves. God's heart breaks for the hurting, and if we truly belong to God, it will break our hearts as well and motivate us to do something about it.
3. Redeeming people from a sinful world is a messy process. The stories of what the ladies at Wellspring walk through with the girls is emotionally gut-wrenching. So many issues have compounded in their lives, that their basic way to function in the world has broken down. It's a messy process to begin to put it all back together again.
4. Doing work like this is much harder than you think. The reason many people choose not to walk towards the mess is because it's so much harder than you'd realize. This book is filled with stories of workers pouring their hearts into the girls, sacrificing for them, and then watching the girls walk away. This work isn't for the faint of heart.
5. The workers at Wellspring Living have HUGE mansions waiting for them in heaven. I'm convinced that their mansions will be much bigger than fancy preachers like me who simply talk for a living. They live out their faith in a real way that makes their Heavenly Father proud.
6. There is incredible injustice being done even in Columbus MS. There are children being neglected, women being abused, and basic needs not being met. There are broken people who need to be made whole again. Will Christians rise up and do justice for those who need it?
QUESTION: What injustices are being done in your city? What are Christians doing about it?