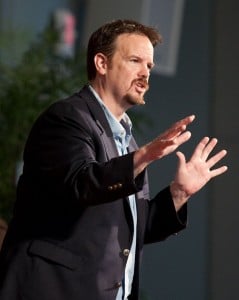 Ed Stetzer, head of Lifeway Research and the 'stats guy' for our denomination, recently wrote an article for Christianity Today where he gave a brutally honest picture of our denomination. We're shrinking at a faster rate than the United Methodists. For a denomination that loves baptism so much that we named our entire denomination after it, baptisms are at their lowest rate since the 1940s. In his article he highlighted two major issues: cultural engagement and our approach to evangelism.
Stetzer writes on our cultural engagement, "There are tens of thousands of Southern Baptist churches who, if the 50s came back, are ready to go." Society has left us behind culturally in decades of dust, and we refuse to budge from our cultural high water mark in American history. As I wrote in an earlier blog, evangelicals are in danger becoming the Amish of the 21st century.
When it comes to our evangelism, Stetzer minces no words here either. He writes, "Baptists can yell at each other all day about reaching more people, but if they won't change their churches it shows they are more passionate about the idea of evangelism than they are about actually reaching people."
That's why simply 'praying for revival' simply isn't enough. Every year our convention calls for more prayer for revival, but prayer can be a cop-out. Many times the heart behind those types of prayers is "God, please change the culture to go back to when we were comfortable and successful" rather than "God, please change us and move in us to reach this generation."
The answer to Ed Stetzer's valid concerns about the future of Southern Baptists is both simple and daunting: change
. Don't change our theology, don't change our fundamental beliefs about Jesus. But we need to radically change our approach to and engagement with 21st century world around us. People are still genuinely seeking spirituality and they're still very much interested in God, but people don't seek out museums looking for life change.
As Ed Stetzer wrote in an earlier version of this piece for Baptist Press, this is why Southern Baptists have lost an entire generation of pastors. Because the Convention has been so resistant to change for the past several decades, up and coming pastors have left the Southern Baptist fold in droves to plant and pastor non-denominational churches. I myself pastor a church that is nominally Southern Baptist at best.
If Southern Baptists have any hope of flourishing in the 21st century, we need to change plain and simple. If we as a denomination fade into obscurity in the coming decades, it's not the fault of the society, of the devil or of sin. It's on us. We were too stiff-necked. We refused to change.
*Here's an earlier post where I shared 7 out-of-the-box changes Southern Baptists must make to stop the bleeding and start growing again.