You'd never think that a "good church kid" from a staunch Southern Baptist background would willingly hang out with a bunch of addicts, but I do and I love it! More than that, it's one of the favorite ministry things I get to do each month. Mt Vernon church works together with Recovery House (a local in-residence treatment facility) to help ladies battle drug and alcohol (and more and more prescription drug) addictions that are ruining their lives.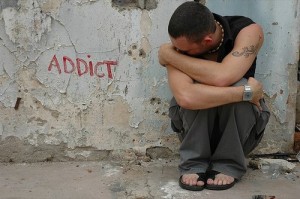 Every Sunday a dozen of the ladies from phase one march into church two by two. For many of them, it's the first time they've been in church in years, if not decades. Once a month I get to go out to Recovery House and spend two hours with these ladies, getting to know them and answering any spiritual questions they might have. Yesterday was my day to go to Recovery House, and I walked away (as always) reminding myself that it was for afternoons like this that I got into ministry.
Like most months, the current group of clients for Recovery House is a motley crue of broken and damaged lives: we had an exotic dancer, a preacher's kid, and a mousy-faced, harmless-looking lady who was actually a murderer (she sat right next to me!). I learned about their stories, their hurts, their broken homes growing up (four of them grew up with parents who were addicts), their children, their divorces, their abuse. Being insulated for so long in the antiseptically clean environment of a Baptist church (not saying that hurt like this doesn't go on in the church, just that we weren't supposed to talk about it), it's shocking to realize just how much brokenness exists in the world.
Here's what I love about hanging out with a bunch of (recovering) addicts: the gospel shines so brilliantly against the backdrop of their broken lives. They are all hungry for religion, for someone or something greater. So I get to tell them about the Jesus of the New Testament, and there's none of the arm-chair theologians, stiff-necked traditionalism that can sometimes obscure the beauty of Jesus. They are broken and hurting. Jesus is grace and truth. And they embrace him like the woman at the well or the blind man receiving his sight.
It's fresh. It's refreshing. It's free from any church politics. It's a group of sinners encountering and embracing Jesus. That will never get old!