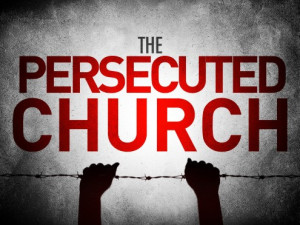 When I woke up yesterday morning, the headline screaming at me on CNN was a nun in her 70s that was gang raped by robbers in India. When I came home at lunch, the headline screaming at me on Fox News was multiple suicide bombers blowing themselves up outside of churches in Pakistan, killing 15 and injuring 70. In between those stories, I was at Mt Vernon Church, where we held a special 1Voice service to highlight and show solidarity with the persecuted church.
Why is it important to highlight the persecuted church? Because we're all part of one universal body. As Paul says, "If one part suffers, every part suffers with it; if one part is honored, every part rejoices with it." (1 Corinthians 12:26) When your arm breaks, your whole body takes notice. When the persecuted church hurts, we all hurt. Here's a real life story of persecution:
Persecution is real. Although stories of persecution should cut us to the heart, they should never surprise us. The Bible is very clear that persecution is to be expected if you follow Christ:
Blessed are those who are persecuted because of righteousness, for theirs is the kingdom of heaven. Matthew 5:10
In fact, everyone who wants to live a godly life in Christ Jesus will be persecuted.  1 Timothy 3:12
Dear friends, do not be surprised at the fiery ordeal that has come on you to test you, as though something strange were happening to you. But rejoice inasmuch as you participate in the sufferings of Christ, so that you may be overjoyed when his glory is revealed. If you are insulted because of the name of Christ, you are blessed, for the Spirit of glory and of God rests on you. 1 Peter 4:12-14
 Remember what I told you: 'A servant is not greater than his master.' If they persecuted me, they will persecute you also. John 15:20
To understand why persecution happens and why it shouldn't surprise us, we need to understand a deeper truth about persecution: 
Persecution is the price for Kingdom growth. 
We are in the midst of a war, a battle for the souls of every man and woman on this planet. In every battle there is a price to be paid for victory. Persecution is the price we pay.
The early church understood this, but we've gotten away from this as we've become more and more accustomed to living lives of leisure. Like going to the gym to work out but then being surprised when you have to break a sweat. We expect everything to be easy. We don't want to sacrifice. We'd rather stay home and avoid the hard work then go to the gym and break a sweat. Some of us are surprised that persecution still happens today. Many of us have forgotten the truth that our brothers and sisters across the world have never forgotten: there is a price for following Jesus.
When we remember them, when we pray for them, we honor them and the sacrifices they've made for the faith.
To learn more about the persecuted church, please visit www.opendoorsusa.org.