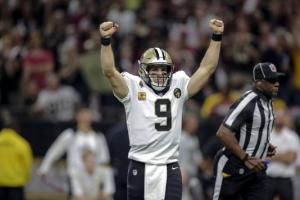 Last night NFL quarterback Drew Brees (of the New Orleans Saints, WhoDat!) broke the all-time passing yards record previously held by Peyton Manning. It was a moment made for television as Brees connected on a 60+ yard touchdown throw to break the record. At that moment the entire game stopped to allow Brees to celebrate with his teammates, coaches, and his family. As an undersized quarterback (standing at barely over 5′ 10″), Brees was never given much of a chance in the NFL. After a season-ending shoulder injury got him cut from the San Diego Chargers, Brees' career was in jeopardy. But the New Orleans Saints took a chance on Brees, and the rest is history. I would argue that no current NFL player means as much to his city as Drew Brees does to the city of New Orleans. As the city began to rebuild from the devastating effects of Hurricane Katrina years ago, Brees became the tangible face of the city's resilience and resolve. As far as a storybook, classic underdog, hometown hero tale, you couldn't get much better than Brees becoming the all-time passing yards leader in front of his hometown crowd last night.
The most special thing of all was what Brees said to his boys. A father of four, Brees took a moment during the middle of the game to gather his young boys around and embrace them. Because he was miked up, the world heard the message Brees shared in one of life's most teachable moments. He said to his boys, "You can accomplish anything in life you're willing to work for." It shines because of the importance of working hard and persevering, but this ideal of a strong work ethic is not something unique to American culture. In fact it goes back 2000 years.
Other than Jesus, no other man shaped the course of Western culture and history more than the Apostle Paul. His tireless efforts to plant churches in the first century helped Christianity flourish and thrive. His letters preserved throughout the ages have continued to inspire and guide the movement of Christianity. But what Paul accomplished wasn't accidental or unintentional. It required more sacrifice than most of us would dare to consider (2 Corinthians 11:16-33). So when Drew Brees (himself an outspoken Christian) shared his incredible timeless truth with his boys, he was echoing the words of the Apostle Paul himself:
But by the grace of God I am what I am, and his grace to me was not without effect. No, I worked harder than all of them—yet not I, but the grace of God that was with me. 1 Corinthians 15:10
Paul worked hard and relied on the grace of God, and he changed the course of human history. If the church today saw more people with the grit, resilience and determination of Drew Brees applied to the movement of Christianity, I don't believe we would be seeing the mass exodus of the Nones. We wouldn't be bemoaning the decline of the church. We would be taking new ground for the Kingdom. I think the church is simply waiting for a few good women and men to roll up their sleeves and do the hard work.